1.9″ RTR Scale Crawler Shootout – Rock Crawling
1.9″ RTR Scale Crawler Shootout – Rock Crawling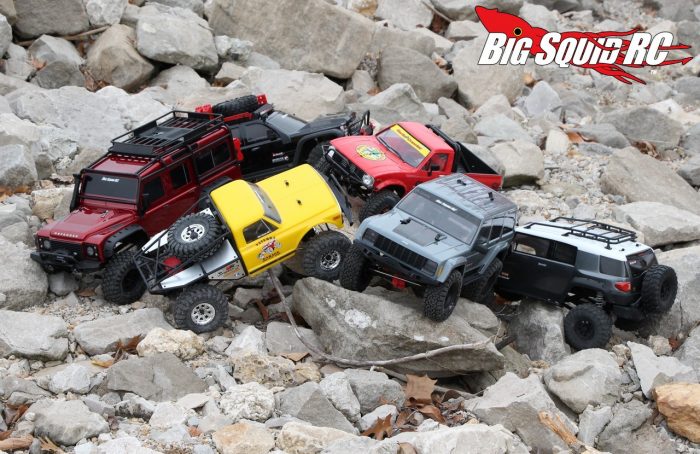 Let's face it, all the trucks in our shootout are rock crawlers at heart. Yes, they may have loads of realism and are littered with scale accessories, but at the end of the day, they were made for crawling.
For the rock crawling portion of the shootout we loaded up all six trucks then hit the rocks. We hit two different areas for rock crawling, both of which had what we considered to be pretty normal rock crawling sections. The test areas had easy spots, difficult sections, and parts that none of the trucks could successfully make it through. Each test driver was allowed to drive each truck for as long as they wanted. Most drivers would find a really hard loop and hit it with each truck, then re-drive some of the trucks if they didn't know exactly where they rated compared to the others. After driving, we sat each driver down and they ranked the bunch from most capable, to the least. Here is how each driver rated the shootout trucks.
Chris
1. Vaterra
2. Traxxas
3. Axial
4. HPI
5. Redcat
6. RC4WD
Cubby
1. Traxxas
2. Vaterra
3. Redcat
4. Axial
5. RC4WD
6. HPI
Tim
1. Vaterra
2. Traxxas
3. Axial
4. RC4WD
5. Redcat
6. HPI
Doug
1. Vaterra
2. Axial
3. HPI
4. Traxxas
5. Redcat
6. RC4WD
Mike
1. Vaterra
2. Traxxas
3. Axial
4. RC4WD
5. Redcat
6. HPI
Final Combined Results-
| Points | Vehicle |
| --- | --- |
| 6 | Vaterra Ascender K10 |
| 11 | Traxxas TRX-4 |
| 15 | Axial Racing Jeep Cherokee SCX10 II |
| 23 | Redcat Everest Gen7 Pro |
| 25 | RC4WD Marlin Crawlers TF2 |
| 25 | HPI Venture FJ |
Notes-
As each of these trucks are rock crawlers at heart, their capabilities in the rocks was very important. We would like to say that each of the six trucks was MUCH more capable in the rocks than we expected. Most of our crew is used to driving fully modded rock crawlers, therefore they didn't expect a bunch of RTRs to be able to make some of the harder obstacles that we came across, but all six did an amazing job.
Like all our shootouts, there can only be one winner. In the case of rock crawling, we found the Vaterra to be the best of the bunch. While it didn't come with the best steering servo or tires, its chassis and general set-up proved to be top notch. We found that the Vaterra made easy work of some sections that other trucks in the shootout simply could not get over. It also seemed like the Vaterra was the best at keeping momentum in the rocks. The Vaterra rarely got slowed down, it simply kept on going, almost floating over difficult sections where some of the other trucks would struggle. In second place was the Traxxas. It's top heavy body worked against it when hardcore crawling, but its good tires and generous ground clearance (thanks to the portal axles) allowed it to nearly keep up with the Vaterra. Third place went to the Axial, a truck with the best steering of the bunch and tires that proved quite grippy on a wide variety of surfaces. In fourth came the Redcat. It was also hampered a bit by its tall body, but its tires and generous power system allowed it to do a great job when crawling. Tied for fifth place was the HPI and the RC4WD. The RC4WD was held back a bit by its softer power system and leaf spring suspension, while the tires and rear overhang on the HPI are what kept it from the top.
You can't have a great vehicle without some great Features.