1.9″ RTR Scale Crawler Shootout – Speed
1.9″ RTR Scale Crawler Shootout – Speed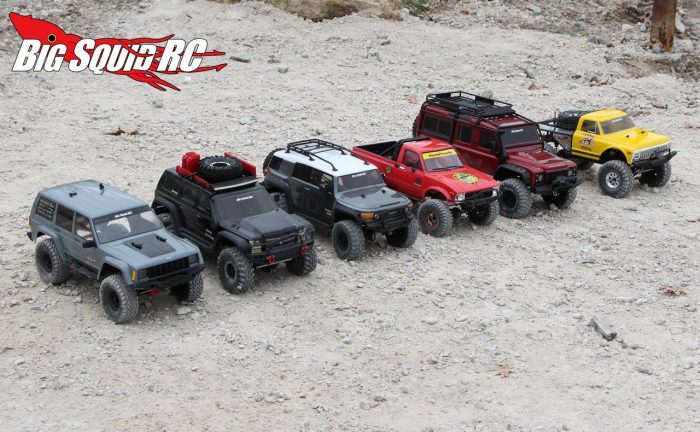 Believe it or not, speed matters in scale crawling. When out on the trail, or simply when out bashing, a few extra mph can go a long ways. There have been dozens (hundreds?) of times out on the trail where a truck with a little more speed was able to get over a hill, where other slower trucks simply couldn't get up. So while the majority of crawling is done at less than 3 mph, that isn't the case on a trail drive. You might hit a large open area where you can really punch it and make up time, or even more common is a make-it-or-break-it hill that is simply a lot easier to get over when hitting it at 7 mph than it is at 4.
We gathered up our six shootout trucks and put them on the line to see which one was the fastest. Before testing we fully peaked each of the truck's MaxAmps batteries. After that, we put all the trucks down on a large gravel covered parking lot before doing a heads up 10 yard drag race. Which truck turned out to be the fastest? Here is how they stacked up.
Results-

| Points | Vehicle |
| --- | --- |
| 1 | Traxxas TRX-4 |
| 2 | Redcat Everest Gen7 Pro |
| 3 | HPI Venture FJ |
| 4 | Axial Racing Jeep Cherokee SCX10 II |
| 5 | RC4WD Marlin Crawlers TF2 |
| 6 | Vaterra Ascender K10 |
Notes-
We don't think you'll be surprised to see that the Traxxas took the win in this category. Yes, the Traxxas was the only truck in the shootout with a 2 speed transmission and that really paid off for them, not only in the speed category, but also while trail driving. We expected the Traxxas to totally dominate the speed category, but that was not the case. The Redcat wasn't far off the speed of the Traxxas, even though it had a single speed transmission. In third was the HPI. It wasn't near the speed of the Traxxas or the Redcat, but it was noticeably faster than the trucks behind it. The other three trucks, the Axial, RC4WD, and the Vaterra, were all very close in speed. The last three were obviously geared for straight up crawling prowess and we felt that their gearing worked well in the rocks, even though it worked against them in the speed category.
Moving on to Price.