1.9 Scale Crawler Shootout – Looks
1.9 Scale Crawler Shootout – Looks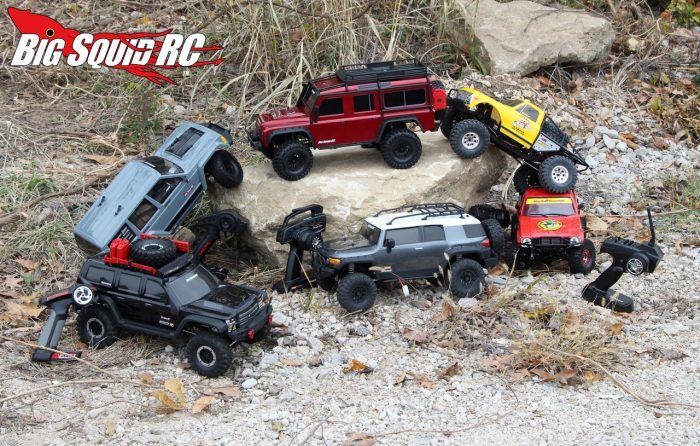 Normally in our other shootouts the "looks" category is very important. However, in a scaler shootout, the looks category is even more so. Scalers are all about looks, with the more realistic the better. And it isn't about an overall look either, scaling is all about the smallest of details. To do well in this category required a truck to not only look scale, but to also have fully licensed products as part of their package, along with the more scale detailing the better. With that said, this is how our BigSquidRC Bash Crew ranked all of the trucks.
Chris
1. RC4WD
2. Redcat
3. Vaterra
4. Traxxas
5. HPI
6. Axial
Cubby
1. Redcat
2. Traxxas
3. Axial
4. Vaterra
5. HPI
6. RC4WD
Tim
1. RC4WD
2. Traxxas
3. Redcat
4. Vaterra
5. HPI
6. Axial
Doug
1. Vaterra
2. RC4WD
3. HPI
4. Traxxas
5. Redcat
6. Axial
Mike
1. HPI
2. Axial
3. Traxxas
4. RC4WD
5. Vaterra
6. Redcat
Results-

| Points | Vehicle |
| --- | --- |
| 14 | RC4WD Trail Finder 2 |
| 15 | Traxxas TRX-4 |
| 17 | Vaterra Ascender |
| 17 | Redcat Everest Gen7 |
| 19 | HPI Venture |
| 23 | Axial SCX-10 |
Notes-
Narrowly squeaking out the win in the looks category was the RC4WD. The RC4WD had a ridiculously trick looking wheels and tires, plus it was loaded with high-end metal parts from nose to tail. Nipping right at the tail of the RC4WD was the Traxxas. The Traxxas is arguably the best looking truck ever designed by Traxxas and is loaded with scale accessories to go along with its highly scale authentic looking body. Coming in at a tie for third place was the Vaterra and the Redcat. Using a rather simple design, the Vaterra simply nailed it with a sharp looking body and an excellent wheel/tire combo. And while the Redcat did come loaded with scale accessories, it did not come with a licensed body. Its body looked good, but not fully licensed awesome. Coming in at 5th and 6th were the HPI and the Axial. Both are great looking vehicles in their own right, but their lack of scale accessories hurt them in our shootout.
You can notice in our results just how different our review driver's opinions were on looks. What is "scale" to one person, isn't so much to another, and that is why we used five different people to come to a final looks score.
You made it! It's time for the Final Results!