1.9″ Scale Crawler Shootout – Transmitter
1.9″ Scale Crawler Shootout – Transmitter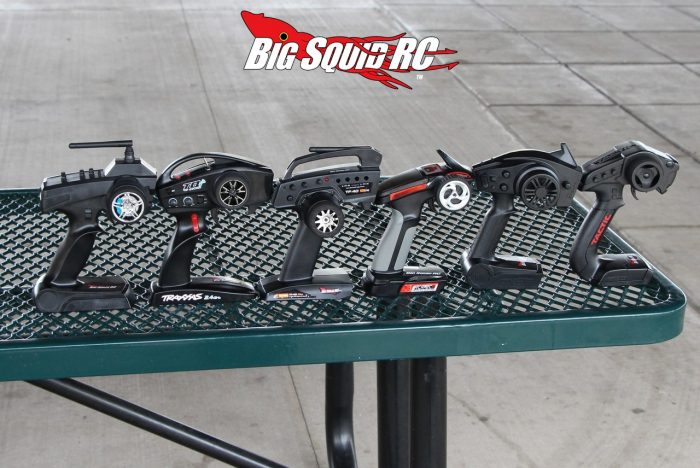 When you are staring at an 8 to 10 hour day out in the woods, a nice, comfortable transmitter is a necessity. To go along with ergonomics, performance is also key. While range isn't such a big deal on a crawler, glitch free performance is, as is the feel of how the wheel and trigger translate into action at the truck. Over the course of our shootout we logged hour after hour of time with the trucks. During that time our test crew definitely found which transmitters worked the best for them. When testing had concluded, we had all the guys sit and down and rank the transmitters from their favorite, down to the one they favored the least. Of course all of our test drivers had different sized hands, as well as different personal preferences. Here is how they stacked up for our Bash Crew.
Chris
1. Traxxas
2. RC4WD
3. HPI
4. Redcat
5. Axial
6. Vaterra
Cubby
1. Redcat
2. Axial
3. Traxxas
4. Vaterra
5. RC4WD
6. HPI
Tim
1. RC4WD
2. HPI
3. Redcat
4. Axial
5. Traxxas
6. Vaterra
Doug
1. HPI
2. Traxxas
3. RC4WD
4. Redcat
5. Axial
6. Vaterra
Mike
1. Traxxas
2. Axial
3. RC4WD
4. Redcat
5. Vaterra
6. HPI
Final Combined Results-
| Points | Vehicle |
| --- | --- |
| 12 | Traxxas TRX-4 |
| 14 | RC4WD Marlin Crawlers TF2 |
| 16 | Redcat Everest Gen7 Pro |
| 18 | Axial Racing Jeep Cherokee SCX10 II |
| 18 | HPI Venture FJ |
| 27 | Vaterra Ascender K10 |
Notes-
Taking the win in the transmitter category was the Traxxas TQi. Not only did the TQi fit in our hands nicely, but we found that the radio performed quite well in a wide variety of conditions. The Traxxas radio also had more work to do than the other radios, as it also handled shifting between high and low gears, it remotely locked the diffs, and it had cruise control. In second place was the RC4WD radio. While it was one of the larger units in the shootout, it fit nicely and had plenty of adjustments. Landing on the podium in third was the transmitter for the Redcat. Several of our drivers really liked its rubber covered wheel, and the fact that most of it adjustments were protected by a polycarbonate screen. Coming in at a tie for 4th place was the Axial and HPI, while the Vaterra came in sixth place. Had the Spektrum radio come with some sort of foam/rubber wheel covering and a few more adjustments, it would have placed much higher.
Time to do some Trail Driving.