1.9 Scale Crawler Shootout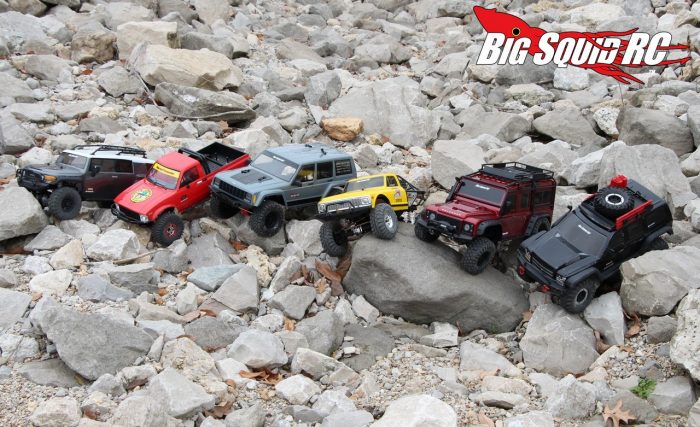 For a while now we have been talking about doing a scale/crawler shootout. We receive a lot of email around here, and a large percent of those have been asking about crawler comparisons. It's been on the back burner for longer than we can remember, partly due to several vehicle releases getting pushed back a couple of times. Every couple of month's we'd be in contact with a few manufactures to get some updates and info when suddenly it seemed like EVERYONE was releasing their new vehicles. The flood gates opened, and vehicles starting pouring in. The 1.9″ Scale Crawler Shootout was happening! All the vehicles tested were RTR (Ready to Run) and we tested them as stock vehicles. We didn't change gearing, fluids, anything.
As is typical in our shootouts, we all learn something, as well as incorrectly predicting which place a product is going to show up on the list. Most people still don't believe it to be as it is, but this is how the shootouts go down. Everyone has a prediction of where a vehicle is going to place, and everyone is usually confident about how well they know a vehicle. We have done reviews of all of these vehicles, and they all rate VERY well, but until you drive them back to back to back, your brain just can't comprehend how different they truly are. Every shootout has surprises, and this one had plenty!
We'd like to thank all the manufacturers that took part in this shootout. There are a lot of companies that don't stand behind their products, or would never participate in something like this because they consider anything less than first place a huge loss. As we have seen with many shootouts, this is never the case. While we do provide a true list and ranking, many times people choose vehicles based on different categories. Maybe price and looks are a huge part of your decision process, maybe you want something fast and with a decent transmitter, or all you care about are the extra features. Everyone is different, and we have huge amounts of emails thanking us for our shootouts and reviews to help people find the right product for them. Most news/review sites will never do something like this for fear of loosing advertising. We have lost a few over the years, but in a sea of online news, we have been THE place for honest shootouts, and it's what keeps us on top.
For more information about the vehicles we have tested, please visit them at the following links:
Vaterra Ascender K10 from Horizon Hobby.
RC4WD Marlin Crawlers TF2 from RC4WD.
Traxxas TRX-4 Land Rover Defender Traxxas.
Redcat Everest Gen7 Pro from Redcat Racing.
HPI Venture Toyota FJ Cruiser from HPI Racing.
Axial Racing Jeep Cherokee SCX10 II from Axial Racing.
Special thanks to MaxAmps for providing batteries that let us create an even field of power across the board. We know a few manufactures are already yelling at their screen because we didn't use their packs, but this was a shootout to test the vehicles, not the manufacturer batteries, so our friends at MaxAmps helped us keep things fair. Visit them for more battery info MaxAmps.
Each part can be treated as a mini review, but we have a review of all of these trucks separately elsewhere on the site, check the review section if you are looking for full detailed reviews.
There is a lot of information spread across a bunch of pages to read through. We have picked what details we feel are the most important to our readers. We divided up each important test into the pages below. Please do not just skip to the results, there is a LOT of great information here for you to read. Keep in mind our scoring is done like a game of golf. The lowest scores at the end filter to the top and determine the winner. There were a LOT of people involved which keeps the scores from being bias in one direction or the other. Ok, enough blabber, lets get started!
Top Speed – How fast are these trucks?
Price – For many it's all about that price!
Transmitter – The radio can be a big part of the experience, especially on those hour long trails!
Trail Driving – We hit the back trails!
Rock Crawling – Time to get down to business and climb!
Features – What comes stock with these trucks?
Looks – Lets face it, looks are a huge part of the scale scene!
Final Results – Whoa!! Slow down there buddy. Don't just click to the end and see who won. This link is here for when you visit at a later date and want to re-check the results!
Those are the categories we decided were most important. You will notice Durability (One of our favorite categories to test) is not included this time around, and that's because NONE of the vehicles broke during testing. We beat the heck out them and even had a demo derby. They are all still in perfect running order so we didn't waste the page. They all won that one. Time to start your reading for today, lets start with SPEED!