Parma DB-9 World GT Body
Parma has released their new Aston Martin DB-9 World GT body designed for precision high speed handling in a competitive class. Fitting all popular 200mm wide pan chassis this sleek design and lower front end creates a balanced downforce and steering not to mention excellent visual appeal.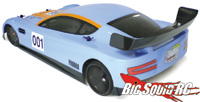 1/10 DB-9 World GT .030 Clear Body w/Wing*(200mm wide) $24.99 Retail
UPC #659548084371
*Body Includes EASY-PEEL Clear Body Film, Vinyl Window Paint Masks
and Die-Cut Decal Sheet.
Drop by Parma for a look!