18th Scale Carpet Off-Road Nats Report- By Tim Mohr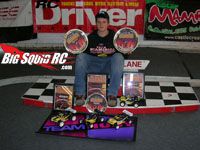 Venue- RC Madness, Enfield Connecticut, carpet, indoor, off road. Track this year featured a HUGE wall corner (dubbed the wall-ride), and a SIC full on supercross style step-on-step-off.
Date- March 28-30 – Turnout- 268 entries
Big Winners-
Billy Fischer, factory Losi driver, pwned the most people this year. His Losi Mini LST looked to be one of the fastest in any class, simply amazing how he was charging it around the track. The Fish is a class act, and took home well deserved victories in Slider, Monster Truck, and 2wd Open.
Zach Barry, factory X-ray, MaxAmps, Tekin driver once again pwned the best in the nation in many classes, including a dominant performance in both 4wd Stock and Buggy Open.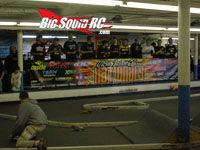 Alex Galenski, RC Madness local, took home perhaps the premier class at the event, 4wd Open with his Associated, after a tough fight with Fischer.
Mike Haynes, factory Losi pilot, took home another win this year in stock 2wd.
Bob Stellflue, best known as the Associated engineer responsible for the TC5, took home his first win at this race in the Buggy Spec class. I'd honestly say I have not seen a smile that big in a long time.
Tony Priolo drove HARD and got the win in the stock rally class.
Carissa Figelski, support driver for Tamiya, raced her Wild Boar to the front of the Tamiya Tam Tech class. Carissa is blinding fast, easily one of the fastest 18th racers around, man or woman.
Hayden Jennings put his truck into the TQ, and brought home the win in the uber popular Novice class. Everyone was standing an cheering the youngster during their races. Always awesome to see youngsters driving hard but clean.
Aaron Wilson, Castle Creations support driver, brought home one of his biggest wins to date in the Rally Open class.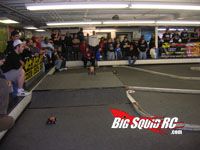 Notable Missing Names-
Tony Phalen, one of the very elite 18th scale drivers in the world was not at the event. Tony has left Associated, and reportedly is doing web work for Verizon cellular. Tony was one of the few with the raw talent and drive to keep Zach Barry, Billy Fischer, and Josh Anderson in check.
Frank Root, also one of the very top elite 18th scale racers in the world, was also notably missing from the fray. In previous years, Frank was at the race under the Quark and Losi banners, and recently he was gone to work for Pacific Coast Hobby.
Frankie and George Berman, some of the friendliest 18th scale racers anywhere, couldn't make the event last weekend. George has helped literally thousands of people on internet message boards under the name BermBuster, so if you see him on-line, remind him that both him and his son were sorely missed this year.
Most surprising attendee?? Has to go to Trinity's Gary Owens (formerly of Associated). Everyone really missed Gary at last years event (and his singing of the national anthem), so it was awesome to see him make it this year.
Second most surprising attendee?? Has to go to MRC Academy's Dave Grabowski. He dusted off a Mini-T and an RC18, and came in and put them on the podium, nearly an impossible task with the talent laden field.
Personally, I had my worst year at this event. Excuses are just like A-holes, so I'll just say I had an awesome time, and came home with a pair of 10th place finishes, and a 3rd place in a B main. The best part about not doing well is looking forward to doing better next year. I do have to give huge personal props to Castle Creations, MaxAmps Batteries, BigSquidRC, Driven Pro, TheToyz.com, Trent Dill, and Jason Annis, all of which made it possible for me to attend my 5th 18th Nats at Madness. Also props to Chris Marcy (RC Madness owner), and Dean Berry (race promoter), for once again topping themselves and putting on an awesome event.
Castle Creations showed their Micro Pro system for the first time at this event. It comes in a snazzy plastic case, can do brushless and brushed, and the throttle feel is exceptionally smooth, especially from a dead stop. It also hosts some pretty insane power handling for a micro speedo. While I didn't bring home any wins, I certainly had the pleasure of driving the best speedo around the track with the Micro Pro.
Some people argue that 18th scale is a fringe part of the sport, but numbers are hard to argue with. The 260+ entries makes this one of the biggest events in the country, bar none. If you were to visit this event, you'd think 18th scale is the biggest part of the industry, not one of the smallest. Next year, if you have an open weekend in mid-March, try to make the trip to RC Madness to see first hand how much fun racing 18th scale is.