2.4 GHz Radio Transmitter Shootout – 2 – Driving and Using
Driving:
Forget all the fluff and stuff, and lets get down to the actual using and driving already! For this test we lined up all 5 radios and receivers. We used our Traxxas Slash 4×4 as our test. We have all driving this vehicle a ton so using a familiar vehicle would allow us to concentrate on the actual radio in use. We each drove for several minutes and then handed it over to the next guy. The radios were swapped as quickly as possible to be able to compare how each felt to the previous. Just like most of our shootouts, the results were surprising.
Remember, these scores are based on all of our individual scores added together.
Just like in golf, the lower the score, the better.
| Points | Radio Name | Sum of Our Scores |
| --- | --- | --- |
| 1 | Futaba 3PRKA | 6 |
| 2 | Spektrum DX3C | 8 |
| 2 | Futaba 3PM-X | 8 |
| 4 | Turnigy GTX3 | 11 |
| 5 | Turnigy 3XS | 12 |
Some notes and comments about the radios.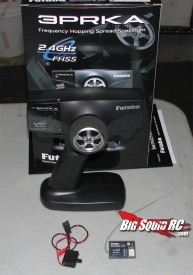 The 3PKRA felt very light, but almost toy'ish in the 'feel' category. Actual driving it felt much better. The buttons didn't get in the way, the center of the wheel felt a little high, but overall it just felt good driving for each person. Maybe it was the fact that we were in the sub $200 range, but when it was all done, this was the radio with the best scores.
After doing all sorts of driving, the Spektrum DX3C felt sluggish at a farther than 'average' distance. How often are 'most people' driving past 200 feet away? Not often, but it was something several of us noticed, and were not really digging. The DX3 also has a very soft trigger out of the box. Some people like to feel like they need a little more resistance.
The Futaba 3PM felt heavy. After using some of the other radios, it was noticeable. It had a good solid feel to it, but you wanted to put it down after some time.
The Turnigy GTX3 wheel was a bit on the small side. The wheel seemed to have a longer throw, like you needed to 'keep turning' to get all the way to the end point. The Throttle/Brake also had longer than desired throws.
The 3XS had a VERY long feeling Throttle/Brake. It seemed to take forever to go from full one way, to full the other, and several people commented it felt un-natural to have to stretch your fingers so far for full brake.
Move on to Weight or head back to the beginning shootout page.