2.4 GHz Radio Transmitter Shootout – 2 – Features
The features category was another group effort. We sat down and looked through the manuals, looked for stuff we wanted to see like model memory, steering and accelerations curves, adjustable or programmable switch functions and more.
Remember, these scores are based on all of our individual scores added together.
Just like in golf, the lower the score, the better.
| Points | Radio Name | Position |
| --- | --- | --- |
| 1 | Futaba 3PM-X | 1 |
| 2 | Spektrum DX3C | 2 |
| 3 | Turnigy 3XS | 3 |
| 4 | Turnigy GTX3 | 4 |
| 5 | Futaba 3PRKA | 5 |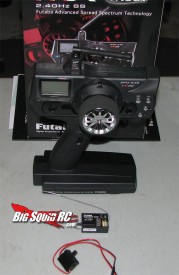 The scores were all unanimous for this round, so we didn't need to add them up, just scored them in order.
The Futaba 3PM-X is more complicated to use, but there wasn't much missing from the feature list. It has a lot of stuff most people would never even use, but if you wanted it, it was there and that's why it took the top spot.
The Turnigy GTX3 has a screen that looks like it should be able to do everything under the sun, but looks can be deceiving. While it had all the basic features, it lacked some of the extras we were looking for.
The Futaba 3PKRA was as simple as it comes. While we think simple radios should always be an option as a upgrade, we feel that having some sort of multi-model memory is a must these days.
Move on to Appearance or head back to the beginning shootout page.