2.4 GHz Radio Transmitter Shootout – 2 – Feel in Your Hand
We try to do the 'Feel in your hand' test as sort of a blind test. While we liked the fact that this heightened our sense of touch, the radios were so different this time around it was easy to know what one you were holding. We still did most of the test with our eyes closed. We were able to get a good 'feel' of the radios, did they seem to balance themselves correctly, were they too top heavy? Were all the buttons easy to reach, or did some just get in the way?
We ranked each radio as we held them on a scale of 1 to 5. The scores from all of us were added up, to determine the ranking of radios one through five.
Just like in golf, the lower the score, the better. We do allow for ties, and our points system works all that out.
| Points | Radio Name | Sum of Our Scores |
| --- | --- | --- |
| 1 | Spektrum DX3C | 4 |
| 2 | Futaba 3PM-X | 5 |
| 3 | Turnigy GTX3 | 10 |
| 4 | Futaba 3PRKA | 12 |
| 5 | Turnigy 3XS | 14 |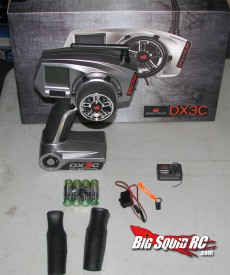 The winner here was the Spektrum DX3C with the Futaba 3PM-X a VERY close second. What helped the Spektrum take the win was the fact that it comes with these extra different sized rubber grips that could be replaced on the handle of the radio. They really made a huge impact on how the radio felt, allowing you to 'dial in' your optimal grip.
Some random comments made during our testing:
The 3PRKA feels very light to hold.
The extra sizes of rubber handles puts the Spektrum DX3C over the top for most of us.
The Turnigy 3XS handle just didn't feel right in your hand. It was uncomfortable and had too much of a plastic feel.
Move on to Ease of Use, or head back to the beginning shootout page.