2.4 GHz Radio Transmitter Shootout – 2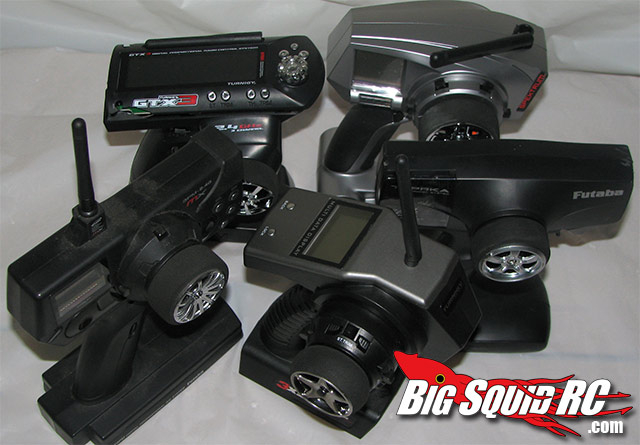 Since our first shootout was such a huge hit with readers, and there have been so many new radios released, it was time to gather up some transmitters and do it all again. This time around we were going for the budget minded. We are only testing radios under $200.
We wanted to see what radios were available for people just looking to upgrade from their stock RTR radios. The people that aren't looking for the big buck top of the line, just something better than what they have. The $200 and less price rule seemed like a good place to start.
We get lots of emails asking about all sorts of radios, and the ones we have chosen to test have been mentioned many times in many of those emails.
The five 2.4GHz radios used for our second transmitter shoot out are the following:
Clicking the above links will take you directly to the manufacturers webpage for that radio, so if you are looking for more details, or something we didn't cover you can head over to their page.
---
You can treat all these sections put together as sort of a mini review of each radio. There are a lot of pages to sift through, but we picked what details we felt were the most important to our readers.
We broke up each important test into the pages below. Don't just skip to the results, there are some good thoughts in there ok?
Feel in Hand – Put the batteries in.. how does it feel?
Ease of Use – How easy is it to set up and use the menus?
Features – What radio has the best/most features?
Overall Appearance – How does it look? Is it embarrassing to hold at the bash spot?
Driving – We get hands on with each radio to see how they feel driving.
Weight – Will you need to workout before a day of bashing or racing to lift it?
Price – Sometimes it's all about the cost. Which one breaks the bank?
Radio Range – Looking to do some distance driving? How far does each radio work?
Drop Test – We dropped each radio several times. Did they all survive?
End Results – The final tally! Don't just skip to here. Go see why we ended with these results.
That's the run down, time to get started reading. So how do they feel in your hand?