2.4 GHz Transmitter Shootout – Final Results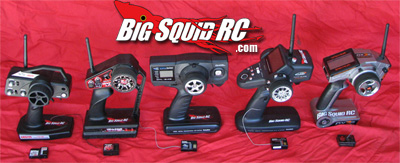 Ok, so if you didn't just jump to this page, and you checked out all the other pages, good job! If you just skipped to here, do yourself a favor, and go check out some of the other sections! While this is how we feel these radio's ranked, you may find that Price, or Distance, or another area we rated is more important for you, and then you can base your decisions accordingly.
Everyone always asks us if a $500 radio really that much better than a $100 radio? According to our shootout, it actually is. You may find that there are a few hundred dollars in features you can live without, and save some cash, and still get a great radio. We just hope this shootout helps make your decision process a little easier.
Remember, these scores are based on all of our individual test result scores added together.
Just like in golf, the lower the score, the better.
| Position | Radio Name | Feel | Looks | Ease of Use | Driving | Weight | Price | Range | Features | Total Pts. |
| --- | --- | --- | --- | --- | --- | --- | --- | --- | --- | --- |
| 1 | Futaba 4PKS | 1 | 1 | 3 | 1 | 5 | 5 | 1 | 1 | 18 |
| 2 | Futaba 3PL | 1 | 3 | 1 | 2 | 4 | 3 | 2 | 3 | 19 |
| 3 | Spektrum DX3S | 3 | 2 | 2 | 3 | 3 | 4 | 5 | 2 | 24 |
| 4 | Traxxas TQ 2.4 with Link | 3 | 4 | 5 | 5 | 2 | 2 | 3 | 4 | 28 |
| 5 | Tactic TTX-240 | 5 | 5 | 4 | 4 | 1 | 1 | 4 | 5 | 29 |
So in the end we picked the Futaba 4PKS as the winner of our shootout. At the price point it's a tough sell, but in the grand scheme of things it still worked it's way to the top of our list. Even if you don't use all the features, or you don't have time to read the 120 page manual, the radio felt great in our hands, the distance we could drive was amazing, and now everyone is 'borrowing it' whenever we have some new vehicle to work on or test. We learned The way a radio feels when you use it to drive IS a big deal, and all radios do not feel the same.
The Futaba 3PL was a bit of a surprise. At a price of $114, with a ton of features and a good feel, you could probably afford to wire a LED on the radio somewhere to remind you to shut it off.
The Spektrum DX3S 3rd place finish was unexpected and then expected. A lot of the Big Squid RC crew run Spektrum radios for all sorts of different reasons. Many of the guys were predicting the radio would finish higher before the tests started, but as we put it through our testing, everyone found out there was some strong competition. It's almost like a Ford/Chevy debate, but I sense some changes in the force.
On paper the Traxxas TQ finished 4th and the Tactic in 5th. This is a VERY close race. If the Tactic had any sort of features of any type it would of been ahead. Everyone agreed that the Traxxas TQ really needs an ergonomic upgrade. Driving the other radios, then going to the Traxxas was an eye opening experience. We understand Traxxas needs to keep that price point LOW for the basher masses, and the linking is great, but with a little work it could really do much better.
We are already planning a sequel, so make sure to send us an email on what radio's you would like to see put to the test, or any comments you have. This was our first radio shootout, and I'm sure as we improve our testing methods we will probably incorporate some new ideas for testing and things people would like to see. Thanks again for reading. Make sure to check out any of the areas you might have missed, you may learn something!
Need more? We now have Updatehave Cubby's Final Notes on the Shootout! Don't Miss!
Head back to the beginning shootout page, or check out the other pages below:
Feel in Hand – Without ever turning it on.. how does it feel?
Ease of Use – How easy was it to set up and use the menus?
Features – Do you get a lot of features for your money?
Overall Appearance – Is it a decent looking radio, or just too ugly to be seen holding?
Driving – Hands on, driving a vehicle around the track.
Weight – Can you hold it up for a day of bashing or racing?
Price – How much does one of these radios cost?
Radio Range – How far can your drive a 2.4ghz system before loosing control?