2009 18th Scale Carpet Off-Road Nationals Report by Tim Mohr
Our Pro Driver and good friend Tim Mohr checks in from the 1/18th scale nats! Thanks for the report Tim, looks like you got a few awards yourself! Congrats!
2009 18th Scale Carpet Off-Road Nationals Report by Tim Mohr
The 6th annual 18th scale Carpet Off-Road Nationals went down over the weekend at RC Madness in Enfield Connecticut. While attendance dropped off a bit due to the economy, the race still had a very respectable 223 entries, and 27 races per round.
Here's a quick race recap-
2wd Stock- TQ Ron Spinelli ran into problems in the main, while Castle Creations/MaxAmps driver Wesley Dennis picked it up and finished with his first win at the off-road nats. Second place is listed at Dean Berry, but perhaps it was RC Drivers Greg Vogel behind the wheel? Third place went to Matt Maziarz.
Stock/Spec Buggy- RC Driver's Greg Vogel hot a race long battle with carpet guru Mark Smyka, with Vogel ending up on top. Both the top two guys were running the Duratrax Vendetta. Third place went to Associated's Bob Stellflue.
Stock Rally- TQ Ashely Villar took down the win, with Ron Spinelli finishing second on the podium, and Nick Zaccaro nailing down third.
4wd Stock Truck- TQ and factory MaxAmps/X-Ray driver Zack Barry destroyed the field in both qualifying and in the main. Nick Zaccaro and Aaron Wilson rounded out the podium.
Tamiya Spec Class- TQ Carrisa Smyka ran clean out front for the win, while RC Drivers Greg Vogel and Mark Smyka went back and forth for second place, with Vogel gaining the spot at the end.
Novice- Talk about a good group of racers having a great time out on the track! Andrew "Lil' Fish" Bishop took the win with his Assocaited RC18, while Cameron Dopp came in second, and Trevor Stevens finished third.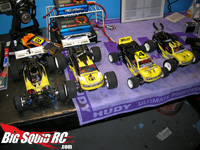 Mini-Monster- Once again, MaxAmps/X-Ray factory driver Zack Barry had the field covered, pwning qualifying and the main. Castle Creations/MaxAmps driver Tom Loranger put his X-Ray M-18MT second on the podium, while John Cravotta started his day on the podium with a third.
2wd Open- John Cravotta really upped his game for this years nats, and was way out front for the win driving his Team Scream Thunder Tiger mid-engined 2wd truck. Second on the podium was yours truly, with Team Scream driver Mike Wilder coming in third.
Buggy Open- Another race, another big win for MaxAmps/X-Ray driver Zack Barry. Mark Smyka piloted his Duratrax Vendetta to second, and John Cravotta continued his podium streak with a thrid.
Rally Open- Get used to his name, because he proved his incredible speed this year. Team Scream's John Cravotta totally pwned this class, putting in times nobody else was even close to for the win. Dillon Spinelli finished second, with Castle Creations/MaxAmps factory shoe Tom Loranger finishing off the podium.
4wd Truck Open- This was the premier class at the event, and also had the most entries. Alex Galinski was in a class of his own though, as he dominated qualifying, and took the win in the A main with his Associated. Team Scream's John Cravotta proved to be his closest competition, finishing second a mere 3 seconds back, Another Team Scream driver Mike Wilder finished off the podium in third.