2009 ROAR Nationals – Pictures and Write-up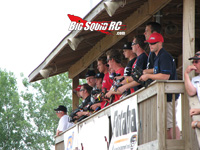 For those looking for a play by play, or even total results from the ROAR nats, you are going to have to find it somewhere else. We are the basher guys remember? 🙂
That being said, I had a chance to hang out at the track, take in some fresh nitro filled air, and enjoy a day of good RC racing action.
First off, I have to say it brings a smile to my face to be able to head out to my local RC track and see the place packed with 300+ racers! Way too many of the locals here take Leisure Hours Raceway for granted! Whenever the Big Squid RC gang gets together for some testing or bashing at the track, there are ALWAYS some locals there complaining about the track, or the facility, or something. These guys just do not get that we are racing at one of THE BEST RC tracks in the nation! Seriously! The place is a RC lovers dream, and I really think people need to start appreciating the work Scott and his guys (Bernie, John, Mike, and the rest of the gang… ) do for the RC community! Maybe the locals don't hit the road very often… but you should see some of the other places MOST RC'ers have to call home. Our home turf is awesome! Ok.. I'm starting to sound like Cubby!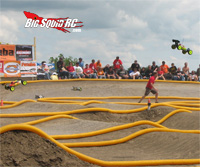 It's also fun to run into people I don't get to see that often. I got to talk to Scott Hughes (Pro Driver, and Awesome dude over at Pro-Line Racing) for a few, he tells me their VTR tires are the bomb… maybe we should put them to the test! It's also cool to see/watch a lot of the pro drivers in and out of their element. Watching Adam Drake take a quick cat-nap in his truck before his race, or watching Tebo and Cavalieri wrenching on their vehicles, watching the pro guys interact with each other, who talks to who, and who hates 'those guys'. There are a lot of GOOD and BAD people in the RC world, and these huge events let you see both sides.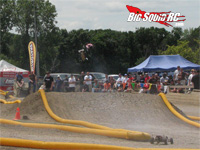 You get to see the RC magazines start to panic. Literally. Their photographers are doing whatever it takes to get good shots, trying to make everyone happy, trying to make all their advertisers happy, but they are always looking over their shoulders. They see news sites like BigSquidRC and others catching up and passing their readership. While taking pics of the winners on the podium, I heard one magazine photog (I won't mention his name, because that would be too xtreme) commenting to another about how he is at least from a real magazine backed webpage, not just some 'non magazine' site. LOL. Does having a declining print magazine make you more legit? It apparently makes you less friendly. (btw, I do like their mag, most of their people are good people!) We also witnessed an insane move by a lady from another magazine (this one was more Action oriented) who literally pushed a stack of her competitions (Driver) magazines onto the floor to make room for hers!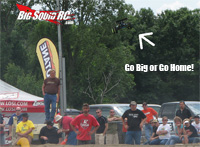 After she left, some people picked up the magazines, and neatly stacked BOTH on the table. She then came back and threw them down again! WTF!? Seriously.. are you 8 years old? I have no idea what she was doing there.. and either did she. She spent most the time texting, or trying to hang out with Richard Saxton so people would think she was cool. I wasn't impressed.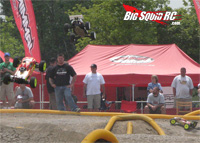 Something else cool to see at an event of this size are the RC fans that come out to enjoy the races. While the number of people that come out to see the races is NO WHERE near the amount it should be, there is still a decent turn-out of people there to support the racers and cheer them on.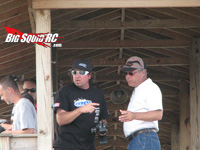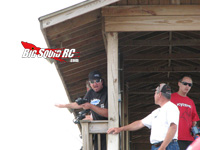 Speaking of Richard Saxton, just before one of his races, he calls up a ROAR official and starts going OFF on him. To make it more interesting, it was about something that happened in a previous race, not the race he was about to partake in. He told (yelling loudly) the official that he was trying to HELP him out so he does not make the same mistakes during his race. LOL. I didn't witness the incident he was referring to, so Saxton could of totally been in the right here, but I think he could of dialed it down a notch, and still got the point across. Yelling at someone 1 foot away from you, loud enough for 300 people to hear, isn't going to make them listen to you any better. That being said, Richard is a passionate guy about the sport! I have to say there was NOBODY more supportive of their teammates then he was! It was very cool to see him there cheering and waving his hat EVERY TIME one of his teammates passed by. I thought that was awesome of him to do. He was cheering them on while he was helping in the pits, while he was turn marshalling, and while he was watching the mains. If only more people got this excited about their sport. You know those drunk NASCAR Fans that wait quietly till 'their driver' comes by, then it's 'Woooooooooooo', that was him, at a RC event! Thumbs up man!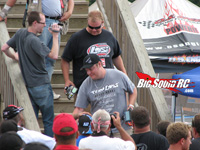 So that's about it for the write up. Oh yea.. some guy named Adam Drake won the 1/8th scale buggy, and Ryan Maifield won the Truggy races. 😉
Congrats to both! (And yes before the mail comes pouring in, I know who they are, so stop writing)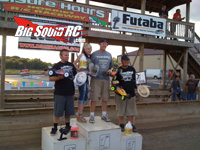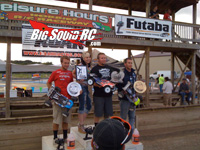 The racing was really awesome by all the guys in the mains. It's one of those things, where you go to your local track and 'think' you can race, and hang with the big dogs, then you see these guys come and RACE, and you remember that you should stick to bashing. Haha.
*earlier I reported that ROAR made the LH guys take down our banner. It looks like my source for why our banner was missing was mis-informed, and Scott actually had them take all the banners down out of respect for the event. Scott can do whatever he wants with our banner.. that guy is my RC hero, and what he wants, he gets.