2014 ARRMA Brushless BLS Series RTRs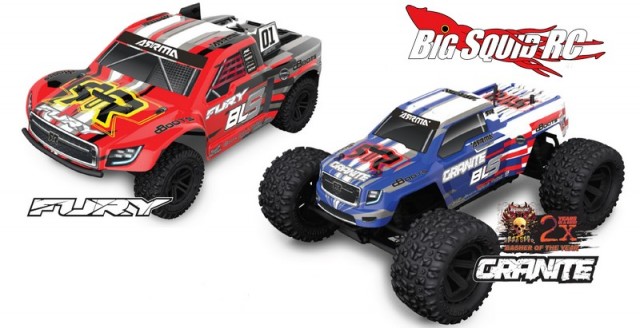 The folks over at ARRMA have just released information on their 2014 BLS Series vehicles. The entire line-up is designed for high performance and low maintenance, and is said to be capable of 30+ mph without gearing changes, option parts, or special batteries. They also sport new livery and a 2 year limited warranty.
Some of the upgrades over the MEGA brushed series include-
* 3200kV 550 brushless motor
* 35A Cont/180A burst brushless ESC with push button programming
* Hex head hardware throughout
* Metal motor mount
* Waterproof AD-5 steering servo
The part numbers for the 2014 ARRMA BLS series are-
ARAD43RR- FURY BLS 2WD Brushless RTR Short Course Truck
ARAD40RR- RAIDER BLS 2WD Brushless RTR Buggy
ARAD42BB- GRANITE BLS 2WD Brushless RTR Monster Truck
ARAD41BB- VORTEKS BLS 2WD Brushless RTR Stadium Truck
The BLS series are expected to start shipping early this Summer and you can hit up This Link to visit the ARRMA website.
What could be hiding behind THIS TGIF Mystery Link???