2WD RTR Monster Truck Shootout – Looks
Looks–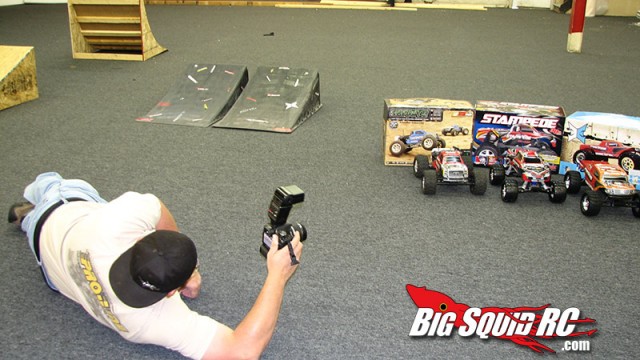 Everyone has different tastes in what they think looks good in a truck, and there is no doubt a good looking truck will far outsell an ugly one. Here's how the three shootout trucks stacked up among our 4 bash crew members in the looks department.
Results-
1. ARRMA Granite
2. ECX Ruckus
3. Traxxas Stampede
Granite– Out of our four staffers, three voted the Granite as the best looking truck. The Granite had not only a strong, square'ish type body, but the paint on the body was exceptionally well done. Its wheel and tire combo also looked top notch to our bash crew.
Ruckus– Brian voted the Ruckus as the best looking of the bunch, while the rest of us rated it second best. Although… two of our other staffers admitted to being torn between the Granite and the Ruckus for the win. The Ruckus had a well done body as well as an aggressive looking stance.
Stampede– Every one of our staffers voted the Stampede as the worst looking. Why? If you only have a new Stampede in your hands it looks pretty good. The paint is sharp, the rims have some bling factor, good looking truck no doubt. But… if you happen to sit the Granite and Ruckus right next to it, the Stampede immediately looks dated and toy'ish. The body on the Stampede is mounted way (WAY) too high, and it is physically smaller than the others.
Looks aren't everything, how do the Features stack up?