2WD RTR Monster Truck Shootout – Pavement Driving
Pavement Driving–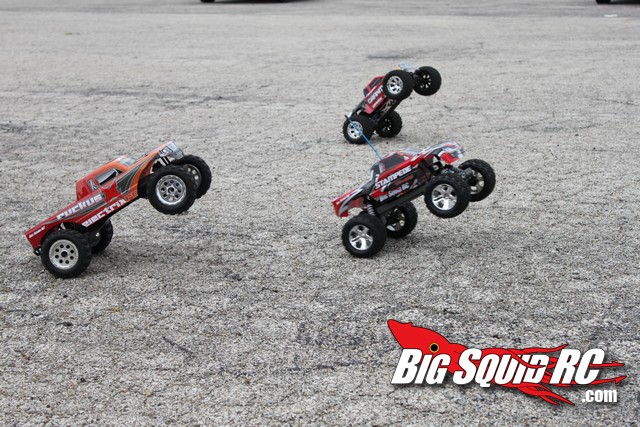 It's no secret that a whole lot of off-road trucks never see a spec of dirt. The fact is many bashers simply prefer the traction, convenience and reduced cleaning of blasting down the street over fouling their trucks up at the local dirt track. At BigSquidRC we know bash machines tend to see a lot of street action, therefore one of our test categories is "pavement driving". For this portion of the shootout we took four members of our bash crew and set them loose to determine which was the best 2wd Monster Truck on pavement. Our guys drove the trucks as much as they wanted back-to-back to determined which they liked the most.
Results–
1. ARRMA Granite
2. ECX Ruckus
3. Traxxas Stampede
By driver they ranked this way.
Brian- 1. Granite 2. Stampede 3. Ruckus
Craig- 1. Granite 2. Stampede 3. Ruckus
Tim- 1. Granite 2. Ruckus 3. Stampede
Cubby- 1. Ruckus 2. Granite 3. Stampede
Notes-
Granite– The ARRMA got three out of four first place votes towards the paved driving crown. Overall the Granite is well behaved on pavement, it does not traction roll yet has enough speed and steering to have a great time.
Ruckus– The Ruckus is generally a pleasure to drive on pavement, but its weak (and slow) servo becomes quite evident at higher speeds.
Stampede– If you are a big fan of wheelies the Stampede is your truck hands down, but if you like to turn without traction rolling you will not like the Stampede. On the upside, the Stampede did have more high speed steering than either of the other trucks.
Enough of the good traction, how do these things do at Loose Surface Driving?