2WD RTR Monster Truck Shootout – Price
Price–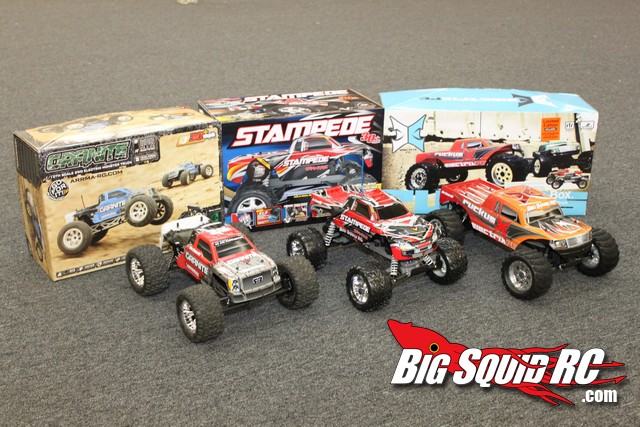 When you quiz consumers on what their single biggest concern is when buying a new truck, "price" is often the answer. Hence we present to you our price category where the lowest price wins. The Stampede comes in two version, brushed or brushless, we used the cheaper brushed version because it presented a closer comparison to the Granite and Ruckus. We did not include tax or shipping in our prices as yours will vary. Here's how they stacked up.
Results-
1. ECX Ruckus, brushed, 2.4 GHz, 6 cell Ni-mh- $149 $129!
2. ARRMA Granite, brushed, 2.4 GHz- $199
3. Traxxas Stampede, brushed, AM radio, 7 cell Ni-mh- $229
Update: The day we posted the shootout, ECX lowered the price to $129! Talk about timing.
Update 2: We have been informed that the Granite now comes with a battery and charger.
Notes-
Ruckus– If you are on a tight budget the Ruckus is the truck you want. It's $70 cheaper than second place (and $100 cheaper than third), it comes with a 2.4 GHz radio system and a 6 cell Ni-mh battery to get you going without having to spend any additional cash.
Granite– The Granite came in second place saving $30 over the Stampede, but it doesn't come with a battery or wall charger. If you are a noob you'll need to buy those in order to drive the truck and chances are those will cost you are least the $30 you saved over the Stampede. However, if you are already a hobbyist you will most likely have a battery/charger and be happy you didn't have to pay for them inside your new RTR.
Stampede– Priciest truck of the bunch and does not come with a 2.4 GHz radio. Although… its 7 cell Ni-mh and wall charger will come in mighty handy if this is your first truck.
Who cleans up well? Time to check the Looks Department!