2WD RTR Monster Truck Shootout – Top Speed
Top Speed–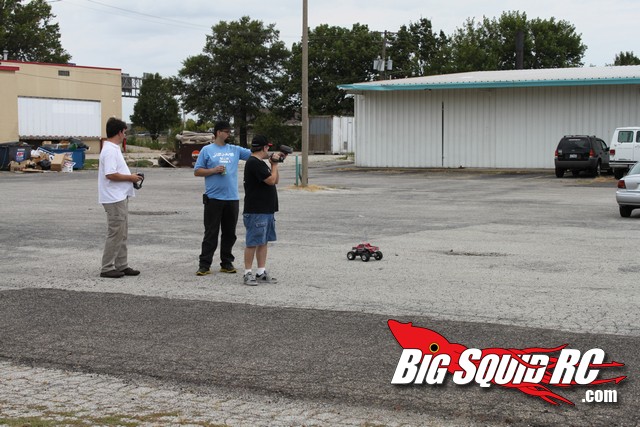 When you buy an RTR truck speed matters. In fact, many consumers actually buy a ready to run based solely on how fast it goes in a straight line. For our testing we installed fresh 2S 5200 Dynamite Speedpack Lithium batteries in each truck then headed out to the parking lot. Cubby was the man behind the trigger this time, he proceeded to make pass after pass until we were satisfied he had gotten the top speed out of each truck. All trucks were tested box stock with no gearing or tire changes. We used our Bushnell radar gun to take the speed readings.
The Stampede came with an optional larger pinion, but we tested all trucks exactly how they came out of the box so we did not install the bigger pinion on the Traxxas. The Traxxas came stock with a 7 cell Ni-mh, the ECX came stock with a 6 cell Ni-mh, but the ARRMA did not come with any battery at all, so we used a Dynamite 2S Lipo in all the trucks. We did not prep any of the motors ahead of time (read- we didn't water dip them, oil the bushings, etc), the motors were run as they came straight out of the box.
Results–
1. ARRMA Granite- 26 mph
2. Traxxas Stampede- 25 mph
3. ECX Ruckus- 23 mph
Notes-
Granite– The Granite barely edged out the win by 1 mph over the Stampede. Of note, while the tall stock gearing of the Granite allowed it to win the top speed category, it noticeably lacked low end power compared to the Stampede, and its (the Granite) motor ran hotter.
Stampede– The Stampede had the most low end power and it nearly took the win in top speed. Coolest running motor of the bunch.
Ruckus– In back and forth drag races the Ruckus wasn't far off the pace, but it didn't win any of the sprints. The Ruckus had the weakest low end power off the line, and its motor ran the hottest of the bunch.
As long as were testing speed, lets move to Pavement Driving!