4WD RTR Short Course Shootout!
Most trucks on the market are pretty good now days, in fact we haven't tested a "dud" in a long time. With that said, the real test of an rc truck today is not how good it is, it's how well it stacks up to its direct competition. What is the best way to compare trucks? A shootout of course! There is nothing better than pitting trucks directly against one another, with one definite winner. Anyone can just do a review of a sc truck, but we give you things to consider when picking between them. Consider this 3 short course truck reviews jammed into one with all the stuff you care about.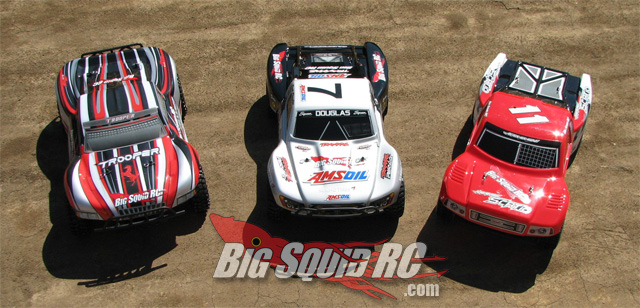 There are a lot of 4wd short course trucks on the market, but we chose to specifically shootout "ready to run" trucks. The Ofna/Jammin SCRT-10 RTR was a shoe in, as it's been on the market for quite some time. Traxxas is seemingly the truck to own right now, so there is no way we could leave out their 4×4 Slash. Ok, so there were two entries into the shootout, but then things get harder. The Horizon/Losi Ten SCTE has been on the market for quite some time, and while highly regarded, it's an ARR, requiring a full set of electronics to be installed. Losi does have an RTR version on it's way, but it's still a couple months out. Associated has a 4×4 SC10, but right now it's only available in kit form (with a RTR version on the way but it's not available yet). So we still needed at least one more truck to make this a "shootout" instead of just a "comparison", so we brought in the HobbyKing/Acme/Turnigy Trooper truck. The HobbyKing isn't a full "rtr", but it does come completely built, with servo, speedo and motor already installed, it simply needed a transmitter and receiver to be good to go. That was close enough to us, so we installed a Tactic radio system and the HobbyKing truck was in like Flynn!
We utilized a variety of testing venues, from various parking lots, to backyards, to RiverCity RC Raceway in Peoria Illinois. We also utilized a variety of test drivers, from basher guy Editor Brian, to regional racer and bash aficionado Jim Swift, to Craig "the ramp builder guy", to our mega-basher "wrench guy" Bill, to our pro racer guy Tim Mohr. Consumers place a lot of different demands on their trucks so we did our best to test the trucks in a wide variety of situations by a wide range of drivers.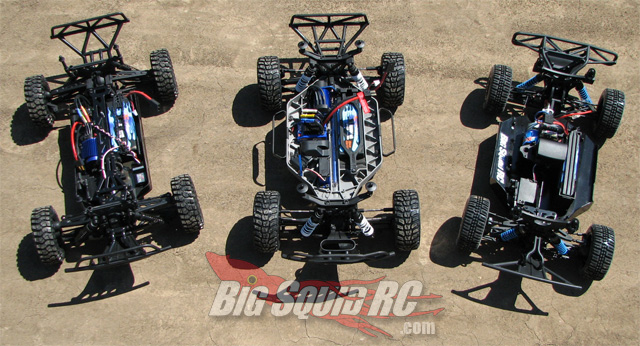 Before you go clicking around for the results, we'd like to thank all the companies/vehicles that participated! Make sure to check out their full specs on their websites for more information!
Click here for the Traxxas Slash 4×4.
Click here for the Ofna Jammin SCRT-10 4×4.
Click here for the Hobby King 4×4 Trooper SC Truck.
So enough of the jibber jabber, lets get down to the business of finding out what is the best RTR 4wd short course truck you can buy!
1) Top Speed – How fast are they out of the box?
2) Pavement Driving – Bashers go on road too!
3) Loose Surface Driving – Gravel, dirt? Bring it on!
4) Jumping – It's all about the air!
5) Durability – Can they take a beating?
6) Ease of Use – How easy to get set up and running?
7) Parts Availability – Can I get parts? What if there are issues?
8 ) Price – What's it gonna cost?
9) Looks – Can it turn some heads? Dime or Double Bagger?
10) Features – Anything special about it?
11) Final Results – Don't just skip to here! It's for reference later, ok? Seriously, go learn something about them first!
Ok, so now you know how this all works? Lets get started and find out Top Speed, how fast are they?!