4WD RTR Short Course Shootout – Durability
Durability–
We are BigSquidRC, we are bashers, and we know that durability is arguably the highest priority on everyones list when it comes to buying a new truck.
So how did we test the trucks for durability? First we let them loose with our bash crew for generally driving. Our bash crew guys literally drove them like they stole them. All the trucks survived with no problems or broken parts. Next we upped the ante and jumped all three trucks off the 2 story tall drivers stand at RiverCity Raceways. All three trucks survived with no broken parts or major issues (albeit the Ofna did have a rear shock pop off, which easily popped right back on). Finally, it was time for a full speed, no holds barred demolition derby between the three trucks… that's when all chaos ensued (and we got a winner!).
Results-
1. Ofna Jammin SCRT-10
2. Traxxas Slash 4×4
3. HobbyKing Trooper
After a days worth of extreme pounding the Trooper came in last. But… it surprised all of us with its durability. We all expected the HobbyKing to be made of glass and to be closer to RedCat quality than hobby grade, but the Trooper actually held up quite well to normal abuse. In the end the Trooper had a broken upper and lower front A-arm, severely bent front hinge pin, cracked (not broken) rear bumper, and a broken rear top deck. There is one more piece of good news here, a-arms for the Trooper cost $1 (for a complete front and rear set), a front tower will only set you back $1.05, and a complete set of two shocks is only $4. So… if you do happen to break a Trooper, it won't break your bank to fix it.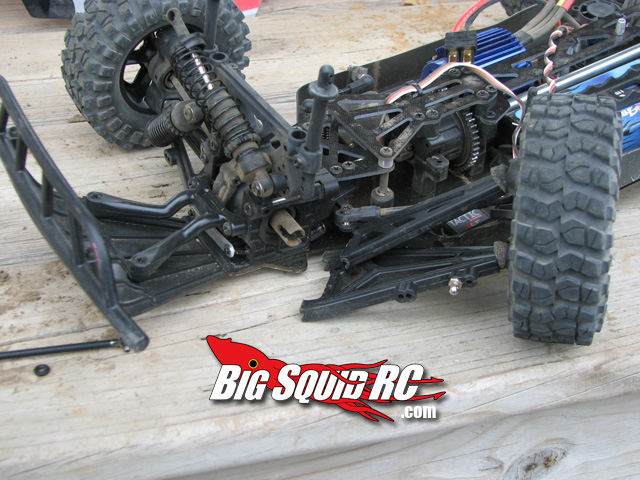 In second place came the Traxxas Slash 4×4. Yes, the Traxxas name is synonymous with durability, but ours suffered two broken front a-arms during the demo-derby. But there is a caveat here… because the Traxxas was faster than the other two trucks it was hitting everything harder, so perhaps speed was the main factor in why it ended up breaking before the Ofna did.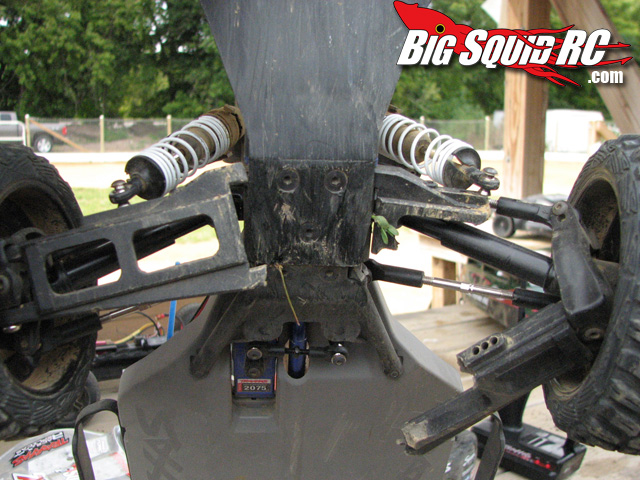 On top for durability is the Ofna SCRT-10. It's a-arms might look spindly, but ours suffered no "broken" parts during the entire length of our testing. However… we did have a few issues. A rear a-arm did crack allowing the rear sway bar to come loose. One of the rear shocks kept popping off at the tower, and one rear shock is leaking worse right now than the Exxon Valdez. Lastly, the biggest issues we faced with the Ofna was its powerplant. The Ofna power system never failed completely, but its speedo thermalled out multiple times (and we were not testing on a particularly hot day, ambient temp was around 80 degrees Fahrenheit). At the end of the shootout, there was only one truck still running, the Ofna, therefore it wins the durability category.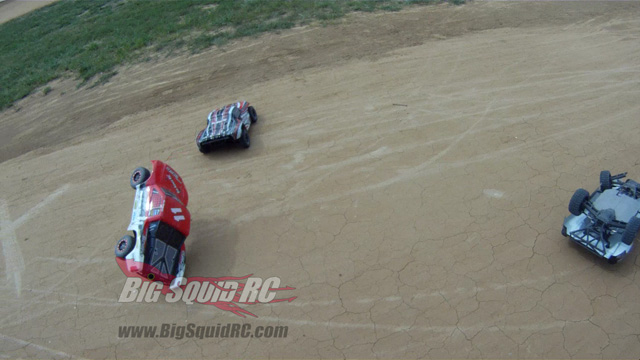 Breaking stuff is fun, but it's time for Ease of Use!