4WD RTR Short Course Shootout – Final Results!!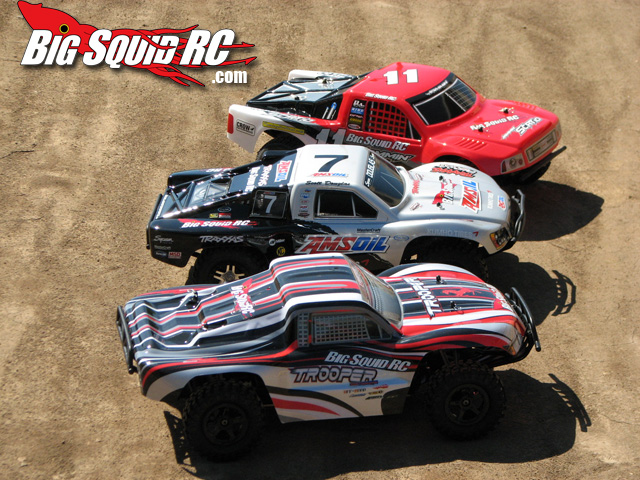 Here is a re-cap of all the testing and resulting places/points scored.
Top Speed–
1. Traxxas
2. Ofna
3. HobbyKing
Pavement Driving–
1. HobbyKing
2. Traxxas
3. Ofna
Loose Surface Driving–
1. Traxxas
2. HobbyKing
3. Ofna
Jumping–
1. Traxxas (tie)
1. HobbyKing (tie)
3. Ofna
Durability–
1. Ofna
2. Traxxas
3. HobbyKing
Ease Of Use–
1. Traxxas
2. HobbyKing
3. Ofna
Parts Availability–
1. Traxxas
2. Ofna
3. HobbyKing
Price–
1. HobbyKing
2. Ofna
3. Traxxas
Looks–
1. Ofna
2. Traxxas
3. HobbyKing
Features–
1. Traxxas
2. HobbyKing
3. Ofna
---
So here's the totals listed as accrued above. Just like golf, the lower the score, the better.
Ofna Jammin SCRT-10 4×4- 2,3,3,3,1,3,2,2,1,3 = 23 pts
Hobby King 4×4 Trooper SC Truck- 3,1,2,1(tie), 3,2,3,1,3,2 = 21 pts
Traxxas Slash 4×4- 1,2,1,1(tie), 2,1,1,3,2,1 = 15 pts
---
Final Results-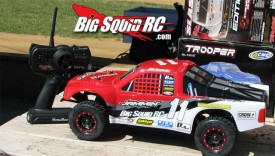 3rd Place (23 points)- Ofna Jammin SCRT-10 EP RTR– Ok, so the Ofna came in last, but is it really that bad of a truck? Well… the stock set-up didn't work well on dirt (or pavement), and the included brushed power system caused us nothing by grief. On pavement the Ofna traction rolled every time we cranked the wheel, and on dirt the rear end was swapping all over the place. Yes, we could have fixed those handling gremlins with a few changes, but we tested all trucks bone stock like they came out of the box. Throw in the fact its brushed system was constantly overheating, and when it was working it didn't have enough power to make the double jumps, you end up with a truck that simply was not on par with the others in the test group. On the bright side, the SCRT-10 was very durable, it was voted the best looking of the bunch, and it's a proven winner on the track with some simple mods. If the Ofna would have come with a brushless set-up and better tires it would have been contending for the win in our basher shootout, not lumbering around at the bottom of the pack.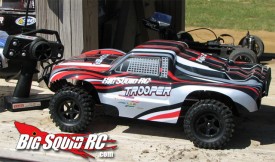 2nd Place (21 points)- HobbyKing SC Acme Trooper– We had no idea before our shootout how a truck from HobbyKing was going to stack up. Most of us guessed it was going to be fast (because it was brushless), but we also thought it was going to handle like a hay wagon and break the first time we ran over a cigarette butt. Boy were we wrong, once again the saying "You can't judge a book by its cover." was proven correct. The HobbyKing didn't have anywhere near the power of the Traxxas, but the truck proved durable, and we were impressed at how well it drove on both pavement and dirt. HobbyKing is known more for batteries than being a chassis manufacture but their Trooper is a solid truck with a lot of potential. It's hard to go wrong when most replacement parts are under $2.00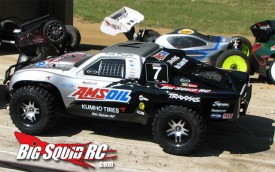 1st Place (15 points)- Traxxas Slash 4×4– The Traxxas stood head and shoulders above the other trucks in our 4wd RTR short course shootout. In all honesty, neither of the other two trucks were even in the same league. The Traxxas felt like it had twice as much power on tap, not only did this give the Slash a much higher top speed than the others, but this also gave it the ability to easily clear double jumps that the others simply could not make. For handling, the Slash 4×4 also received high marks, most notably in the dirt where it is really intended to be used. Something that can not be lopped into one of our test categories was how refined the Slash 4×4 was- the overall quality of the product, from packaging, to manual, to quality of its a-arms, was much greater than the other trucks. To boil it down, the Traxxas didn't just win our shootout, it owned it. If you are looking for the best ready-to-run 4wd short course truck on the market, look no further, it's the Traxxas Slash 4×4.
Did you miss something? You can head back to the beginning and find a link to each category.