4WD RTR Short Course Shootout – Jumping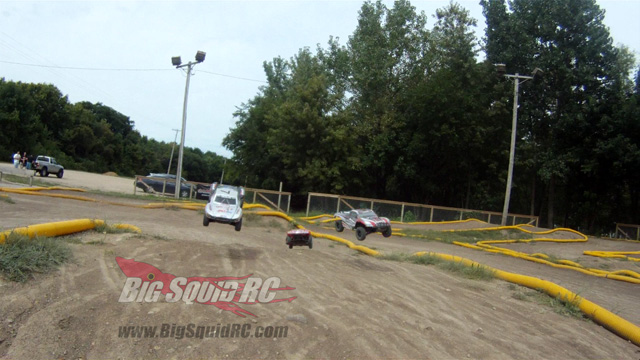 Jumping–
4wd short course trucks tend to get a LOT of airtime, but not all trucks are created equal. Some jump very well, others fly like kites, while others might land more like a cement block than an rc car. We enlisted our merry band of 5 BigSquid bash crew members to drive the trucks back to back to back over a series of different jumps to rate them. Here is how they stacked up…
Results-
1. Traxxas Slash 4×4 (tied)
1. HobbyKing Trooper (tied)
3. Ofna Jammin SCRT-10
By driver they ranked this way… Brian put the HobbyKing on top, followed by the Traxxas, then the Ofna. Jim put Traxxas on top, then the HobbyKing, then the Ofna. Tim ranked them HobbyKing, Ofna, then Traxxas. Craig had the Traxxas on top, then HobbyKing, then Ofna. Lastly Wrench Bill had Traxxas on top, the HobbyKing second, and the Ofna last.
The Ofna was last on nearly everyones for one main reason- it didn't have nearly as much yank to get over jumps as the other two trucks in the shootout. Additionally, because of it's loose handling, it was more difficult to leave a jump face square than the other two trucks.
HobbyKing generally jumped very well. The Troopers suspension soaked up landings quite well and the truck generally flew predictably. The biggest thing holding the HobbyKing back was it's lack of power compared to the Traxxas. The HobbyKing simply didn't have enough power to make larger jumps, nor the rpm needed to raise the front if its nose happened to drop.
The Traxxas 4×4 Slash had ample power to make the big jumps, but had a tendency to nose-dive if you hit a face too fast. Often you found yourself having to try and pull up or you were going nose into the landing hard. When landing correctly it was like it fell on a pillow.
From big air to big damage, lets see how they rank in Durability!