4WD RTR Short Course Shootout – Price
Price–
When you quiz consumers on what their single biggest concern is when buying a new truck, "price" is often the answer. Hence we present to you our price category, where the lowest price wins. Two of the trucks in the shootout are available from hundreds of different outlets, while the other (HobbyKing) is only available from one. For the Traxxas and Ofna we used the most common "street price", while on the HobbyKing we used the price listed for the Trooper on the HobbyKing website plus the price of the Tactic radio system from Tower Hobbies. We did not include tax or shipping in our prices, as yours may vary. Here's how they stacked up.
Results-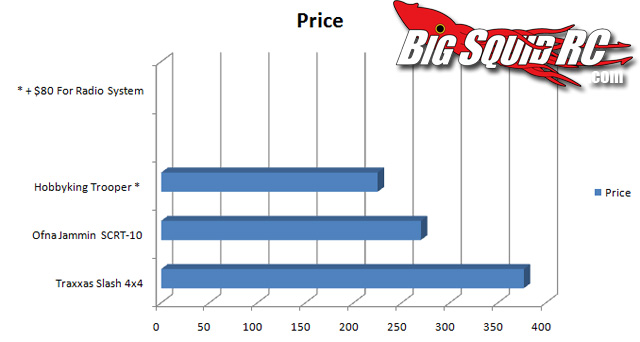 1. HobbyKing Trooper ($145 for the truck + $80 for the Tactic) $225
2. Ofna/Jammin SCRT-10 RTR- $270
3. Traxxas Slash 4×4- $377
So is one vehicle way overpriced? Is one insanely cheep? Are you getting your money's worth? Guess we will have to keep reading till we hit the results.
And they say looks aren't everything? Lets get some opinions about the vehicles Looks!