A Few TORC Series Thoughts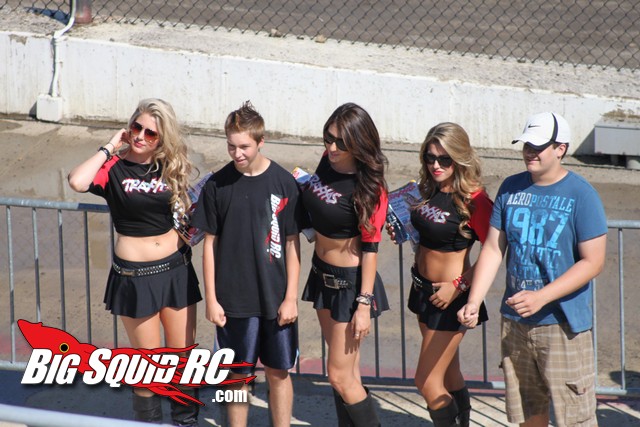 First off, I'd like to thank this kid, whoever he is in the picture. Tim spotted him at the TORC Series event we all attended in Joliet last week. We didn't give him this shirt, none of us know who he is, but it was just cool to spot someone walking around with a Big Squid RC shirt! As you can see, it helps get the ladies also! If you don't have one yet, you should hit the BSRC Shop! Anyway, thanks, whoever you are!
Tim and Cubby did a great job covering the event, but I thought I'd add my 2 cents. If you haven't been to one of these races, you should seriously try and make it out to one. The racing is great, and the ability to walk around and talk to people in the pits before the races is pretty cool. It's Traxxas Sensory Overload though for some. Everywhere you turn, and I mean EVERYWHERE, Traxxas is plastered on signs, banners, cars, trucks, bathrooms, you can't not see it. The announcers also get in more than enough mentions of Traxxas during the racing, and on top of that there's the Traxxas Demo. While I like to see Traxxas getting their money's worth, they actually make it tough to see the other sponsors. Monster Energy looks like a newbie in comparison.
Speaking of the announcers.. if you guys are reading this, seriously.. I think you can lay off the 'forward slash' talk when mentioning people should visit the TorcSeries.com website. If your audience is unsure of what slash they should be typing into their browsers, they probably aren't glued to their computers and surfing the site anyway. It seemed like every 30 seconds the announcers would rattle off a huge URL nobody could remember, and to make it worse say 'forward slash' something 'forward slash' and there is no way anyone was following that.. just sayin'
It was great to see the attendance way up. I have no idea what the numbers are, and I don't know what they were the previous years, but the stands looked much fuller.
I'll have to agree with Cubby on the security and drunkenness of many of the spectators. While it was a Big Squid RC outing, and a bunch of us went, I also brought the family along. The kids wanted to see the racing and experience the noise. And while they had a good time, I was doing my best to shield their eyes from things they probably didn't need to be seeing. It's a tough situation. With Traxxas being THE major sponsor, and RC vehicles everywhere, you get the feeling it should be kid friendly, but the reality sets in that most 'race fans' are there to party, and they are going to over do it. We arrived hours before the race, and the tailgaters were already in full force and hammered. So while I'm sure the kids will be begging to go next year, they may have to watch it on TV or streaming on the net.
Ok, that's enough rambling, Cubby is going to think I'm stealing his job! To wrap it up, had a good time, if you haven't been to one, make sure to check the TorcSeries.Com Forward Slash Schedule Page for dates and tickets and get yourself out there!