A-Main Speedway Spring Fling 2014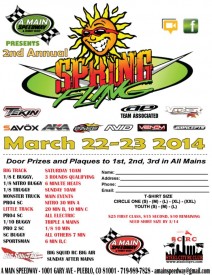 Save the weekend of March 22nd and 23rd for A-Main Speedway's 2nd annual Spring Fling in Pueblo, CO with a special event sponsored by us here at the Big Squid RC. You can get your fill of off-road racing with classes for pretty much every type of off-road rc vehicle in existence. 1/8th scale buggy, truggy, monster truck, electric, nitro, 2 and 4wd short course, a sportsman class for the newbs, and more.
Qualifying takes place on Saturday, the racing commences on Sunday. After the racing is done, it'll be time to bust out some hang time in the Big Squid RC Big Air event thingy.
A Main Speedway is my local hobby shop and I will be there shooting a lot of pics. If you're nearby come on down, find me and say "The crow kaws at the dawn of the first full moon." That'll be our secret code for "Give me free stickers or something*."
You can sign up for this event at the RC Signups website and you can get more info by looking at that flyer up there or by hitting up the A-Main Speedway Facebook page and clicking over to the Events Section.
There'll be door prizes, t-shirts, and more for competitors, plus lots of fun.
*  Something may include, but is not limited to, a passionate embrace.