Accessory Review- RC4WD Bendpak XPR-9S Two-Post Auto Lift
RC4WD is wants to make your scale garage even better with the release of the officially licensed Bendpak XPR-9S two-post auto lift. Does it up the scale garage game? How much does this thing lift? Our review will cover all of these answers, and offer a few surprises so keep reading to get our thoughts.
From: RC4WD
Direct link: RC4WD 1/10 Bendpak XPR-9S Two Post Auto Lift
Review By: Jeremy Griffith
Pictures By: Jeremy Griffith
Quick Specs-
* Billet Aluminum Lift Towers, Lift Arms and Lift Base
* Lifting Capacity: 22lbs, 10kg
* Steel Lift Screws
* Hight: 16.50in, 420mm
* Width: 16.90in, 430mm
* Arms Width: 0.63in, 16mm
* Column Width: 1.57in, 40mm
* Lift Hight Max: 9.45in, 240mm
* Time To Full Rise: 50 sec
* Battery: NIMH 1400 MAH 7.2V included.
* Part Number: Z-X0052
* Price: 189.99
If you are in the market for a fully functional scale lift, look no further! Out of the box you can put it together in about 15 minutes. The instructions are extremely easy to follow and RC4WD gives you everything you need to build, including a scale sticker pack and a NIMH battery, but you will need a charger.
The Bendpak lift is made of aluminum so you don't need to worry about your rig tipping it over. It's rated to lift-up to 22lbs and is not recommended to lift more than 22lbs. Well, we are Big Squid RC, and pushing anything and everything to the max is what we do so you don't have to. I can say the RC4WD Bendpak XPR-9s scale lift can lift a 30lb child with little difficulty, definitely don't recommend doing that, but hey, we had to try it. Street price is $189.99 and for a real working scale lift you can't go wrong. Even if you don't have a scale garage the Bendpak XPR-9s lift is still a great accessory for any scaler. To be honest, if you don't have a scale garage before buying this you most likely will after getting it!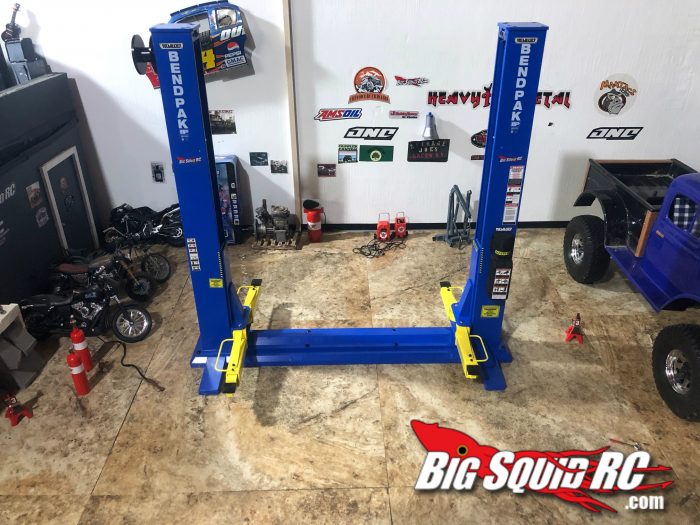 Summary:
As big of a scale fan as I am, I couldn't be happier with the RC4WD Bendpak XPR-9S scale lift. I already had a lift in my scale garage but it was homemade and not functional. The RC4WD Bendpak lift gives my scale garage the ultimate scale look, after all that's what us scalers want, to have the real life versions of items shrunken down for our rigs or garages. I am starting to think RC4WD has the shrink ray from Honey I Shrunk The Kids. With the release of the Bendpak XPR-9S scale lift there is no telling what RC4WD can and will come up with next to tickle or scale our funny bone.
Check out the video below to see it in action!

For more info hit check out the RC4WD 1/10 Bendpak XPR-9S Two Post Auto Lift page or for more RC4WD news from Big Squid RC Click Here.