Acer Ceramic Engine Bearings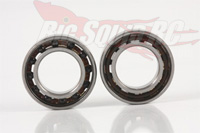 The folks over at ACER Racing have just released their new Ceramic Engine Ball Bearing. It's a 12x21mm super high performance race spec for $11.99 with free shipping. They use a new generation PEEK polymer cage for durability. More engine bearings coming soon.
Head over to the ACER Racing Website for info.