ACER Racer Sets New Lap Record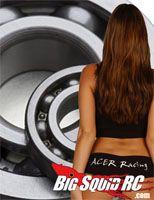 Thought I would post a quick press release from Acer Racing. The interesting thing about this is the 5 second lap times… first off.. how short is this track? And second.. seriously, watching a car go around 79 times, 5 seconds at a time, how is the driver not dizzy? At the least, I'd have a sore neck! LOL.. anyway.. nice job.. and congrats!
————-
SWITZERLAND – During the 3rd round of the Edelweiss 1/12 cup in Oey,Switzerland ACER Racer Shasa Lackner dominated the entire event taking the TQ easily by nearly 1 lap this past weekend.
In the 1st A Main final he won with a new record of 79 laps in 08:00.537, while setting an incredible new lap record of 5.89 seconds. Lackner then went on to win the remaining two A Main finals with 79 laps in 08:03.546 and 79 laps in 08:05.006, respectively. Lackner was the only driver to complete 79 laps.
With two wins and one second place in 3 races he now leads the Championship comfortably with two races to go. Best of luck!