ACER Racing's Latest Bearing Kits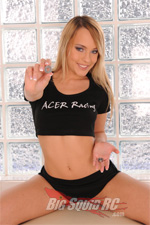 ACER Racing recently sent out an email reminder of all the new products they have been putting out lately. There are a ton of individual bearings, but I'll post the kit's here. So if your looking for a new Ceramic Ball Bearing kit for your RC, here's a start of what they have to offer: Traxxas E-MAXX Brushless Kit, TRAXXAS SLASH 4×4 Bearing Kit, HPI Racing BLITZ Kit, HPI VORZA Bearing Kit, Jammin SCRT-10 Kit, Kyosho Lazer ZX-5 FS Ceramic Bearing Kit, Kyosho Mini Z AWD Bearing Kit, Kyosho Mini Z AWD Bearing Kit, SERPENT 811 Kit, Tamiya TRF 416X Bearing Kit, Team Durango DEX410 DEX410R Ceramic Bearing Kit, Traxxas E-REVO VXL 1/16 Ball Bearing Kit Polyamide Sealed and more!
Head over to the ACER Racing Website for all their kit info.