Acer Racing Ceramic Nitride Pro Series Balls for your Tamiya CR01 Crawler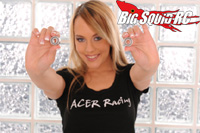 Acer Racing has announced a new set of balls for your Tamiya Crawler. Ceramic Nitride bearings in a full and complete kit for the CR01 Chassis. Don't worry it will work with all the bodies for that chassis as well.
Drop by Acer Racing and check it out! Remember, free shipping is still in effect!