ACER Racing Tamiya Hilux Bearing Kit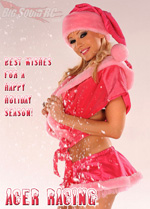 I always enjoy the XMAS cards we get from all of the RC Manufacturers, but I have to admit the ACER Racing card is usually the one I look forward to!
Ok, back on the subject, ACER Racing has a new ceramic Ball Bearing kit for the Tamiya Hilux. It is a complete kit for the truck. It will run you about $119, but keep in mind this is a 42 piece kit with the 3 speed in there. So if you are looking to spend some of that xmas cash, and you have a Hilux in need of a tune up, ACER has you covered.