ACR 01.14 (updated)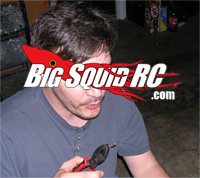 Ask Cubby, Your Weekly RC Advice Column.
==================
Cubby,
What are the best tires for my Slash? Love Reading Your Stufff
Ronny From Pittsburgh
Yo what's up Ronny from Pittsburgh? The stock Slash tires have their upsides, and their downsides. Upsides are they look realistic, and wear a long time. Downsides are they explode on high cell counts, and don't offer that good of traction. So what's the best tires for your Slash? If I had to pick one set of tires for all around use it would be the Pro-Line Bow Ties. These offer much greater traction on both asphalt and on dirt, yet aren't ruined if you run them on the street for a while. Get them in the harder M2 compound for longer wear, and remember the off sets for the rims of a Slash are slightly different front and rear. You can get these pre-mounted on uber Pro Line rims, which saves you some time and CA burns. Part number for the pre-mounted M2 Bow Tie fronts is 1153-11 M2, the part number for the rears is 1153-12 M2. See more info HERE.
===================
Cub Reporter I got a question for you. I live in North Dakota and it's really cold here and I was wondering if it will be a problem driving my E-Maxx outside when it's cold?
Thanks dude,
Barnes
Barnes I feel for ya. It's cold here in the Chi-town metro, but it's gnarly a$$ cold in North Dakota. I watch the weather channel, and every time they mention North Dakota they always say "negative 25" right behind it. Damn, you gotta be part Eskimo to live in them parts. Does it hurt an E-Maxx to drive it in cold weather? No. But, all the plastic parts will be more likely to break. The E-Maxx is normally very durable, but any plastic truck will become more brittle when exposed to cold temperatures. Your batteries will also put out less voltage when they are cold, so your truck will seem slightly slower. So break out the E-Maxx and chase your sled dogs around yard a few times (just try not to hit anything… LOL).
=====================
Dear Cubby, where the heck is Scott Hughes?!
Scott is a man of many dreams, but since birth, his biggest goal in life was to become a professional ice cream truck racer. Since leaving Pro Line, he is chasing that dream by racing the Icelandic Ice Cream Truck Pro Series (the IICTPS) in Reykjavík Iceland. You can watch him race live next Thursday on ESPN5. But seriously, Scotty needs to phone home and give BigSquid the scoop. 🙂
=====================
That's it for this weeks edition of "Ask Cubby". If you have a question, shoot it to cubby at bigsquidrc dot com, and we'll stare at it a few weeks, then probably delete it, but a few will make the main page. Carry on.
YOUR Cub Reporter