AE picks up BK for fast lunch at reasonable price…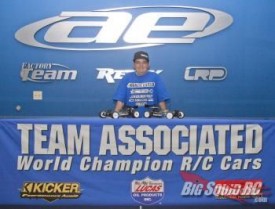 Since Cubby mentioned this, I figured you might as well hear about the follow-up.  The Burger King is apparently racing for Team Associated now… wait… no… BK means Brian Kinwald, as in multi world champion, highly influential racer and designer Brian Kinwald.  That makes more sense.  As Cubby noted, he was "released" from X-Factory last week.  But now he's signed up with AE to help with product development and race on the factory team.
As is to be expected, everybody is happy now, with people saying stuff like I am so excited to be back home. Cliff Lett has always been my hero. He's the one who made me who I am and I can't wait to work with him and the Team again… and Brian Kinwald is a class act. He works hard, races clean and provides our team with experience and immediate A-main finishes. Brian will have a unique role with Associated and we all look forward to working with him for years to come.
For more info, check out Team Associated's website.