Air Hogs Hyperactives Pro Aero GX Review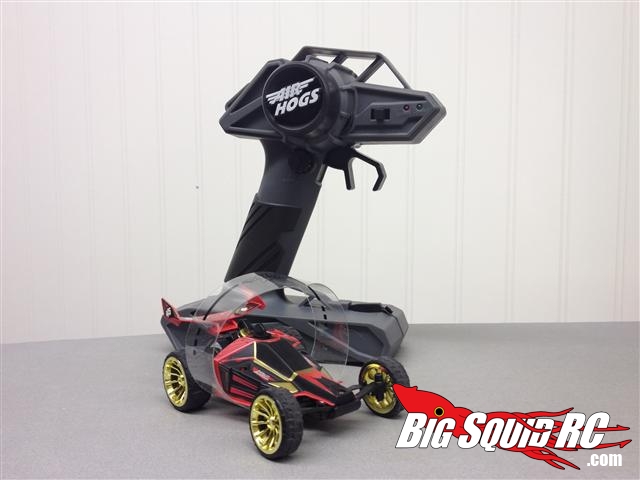 For most of us, winter puts a serious damper on most of our RC driving. If you're like me, an indoor track is hours away, and your fingers go numb five minutes after you start a bash session outside. While I use winter as an opportunity to clean/maintain/fix all of my vehicles that took a serious beating through the warm months, I still have that urge to drive something…without freezing to death. Winter months also mean Christmas is coming soon, and with Christmas comes the awful task of shopping. I've had more than a couple parents ask me what to get a "first-time" RC driver, without going over $50-60. Between my need for some living room bashing, and a holiday wish lists, I decided to give the Air Hogs Hyperactives Pro Aero GX a try. How does it stack up? Click through to find out!
From: Air Hogs
Direct Link: Air Hogs Hyperactives Pro Aero GX
Reviewed By: Evan "Bash Heavy" Hunter
Photos By: Evan "Bash Heavy" Hunter
Stock Specs:
– Toy Grade RC Vehicle
– 2.4GHz Radio System with Auto-Pairing (advertised 100 ft. range)
– Flexible Plastic Roll Bar Helps Keep Car Upright On Wheels
– 20 MPH Advertised Speed
– Two Sets of Tires (1 set foam, 1 set rubber)
– Selectable Speeds, Throttle and Steering Trim
– $40-50 Price Tag
What's in the Box:
Inside the Hyperactives box is almost everything you need to get going. You will get the vehicle (in 1 of 4 different colors), four rubber tires, four foam tires, one pistol grip style radio, and some instructions. All you'll need to add is 6 AA batteries and a Phillips screwdriver. Those 6 batteries are housed in the radio, which doubles as the vehicle's charger.
Initial Impressions:
This is my first "toy grade" RC review, but not my first "toy grade" vehicle experience. Air Hogs says that they try to deliver a hobby grade experience without the price tag. While I'd like to hold them to that, I still classify this as a "toy grade" RC vehicle. With that being said, I was surprised by how "hobby grade" some of this car's features are. Heck, some of them don't even exist on "hobby grade" stuff! More on that later. I will be reviewing this against other "toy grade" stuff I have driven in the past.
The vehicle looks pretty good. I classify it like a "buggy from the future". The clear plastic roll bar looks pretty awkward, I'm not going to lie. However, what it brings in awkwardness it makes up for in function. More on that later as well. It can be removed by taking out two screws, but you won't want to.
The car has one spring just in front of the rear axle to function as suspension. The majority of the vehicle (from what you can see without wrenching on it) is made of plastic, but of varying levels of hardness. The spoiler and spoiler mount are very flexible for example, where the chassis is hard plastic.
The radio actually resembles something "hobby grade". It's a standard pistol grip, albeit quite plain. While not the most comfortable radio, it is far from awkward. The controller contains a 3-way switch to go from charge-off-on, and a clicker to go from low-to-high speed settings. There is also a small clicker to adjust the throttle trim. The charging cord is actually wrapped around the base of the radio and unwrapped is about 10 inches long, and easy to plug into the vehicle. If the radio is left on for longer than 5 minutes, it shuts itself off to preserve battery life. That…is pretty sweet!
Behind the Wheel:
After charging the vehicle up (charge times seemed to average somewhere between 15-40 minutes) I was ready to rock. With the vehicle on the "slow" setting, I took it for a spin around my basement. The first thing I noticed is that the throttle is somewhat variable, and that even on the slow setting, the Hyperactives wasn't exactly slow. It was just about perfect for a smaller space like a living room. My Hyperactives steered to the right at neutral, so I quickly adjusted the trim using a little plastic slider on the bottom of the vehicle and I was pretty straight for the rest of my time with it. While the throttle is variable, the steering is not. I will tell you now that this is my one big complaint with the Hyperactives, and with almost every toy grade vehicle. Your steering choices are straight, full right, or full left, and they happen INSTANTLY. This makes any vehicle harder to control, far less precise, and more prone to rollovers.
Rollovers are a big problem for every vehicle. Well, almost every vehicle. Not so much for the Hyperactives. During my testing, I rolled the Hyperactives a ton of times, but only found myself having to put it back on its wheels a few. The plastic roll bar simply allows the buggy to roll right back onto its wheels, almost every time! It's awesome! Full speed turns are almost certain to roll, but the bar just lets the vehicle roll right over, back onto its wheels, and you're back to driving. Every now and then I'd roll over, and end up stuck right in the center of the roll bar as it flexed. All I had to do was bump the throttle a few times and the car would start to rock. The rocking mixed with the flex of the roll bar would roll me back to my wheels and I'd off again. While the plastic ring looks a little awkward, it is a totally awesome feature and really makes this vehicle unique. It's also really nice for beginners. I had considered taking it off at first, but after seeing it in action, I'm trying to figure out how I can craft one for my "hobby grade" stuff! I'm lazy and hate walking after my Stampede 🙂
On "fast" this thing is pretty crazy. I'm not sure it will do 20 MPH as advertised because I couldn't test that, but it definitely goes CRAZY fast for its size. The speed is there, but the non-variable steering really creates some problems here. It doesn't render the vehicle un-drivable or anything like that, but it just takes some getting used to. I never had any issues with range (indoors) but was able to drive the car out of radio range outdoors. However, out of range was really out of sight, as the car was far enough away that it was hard to tell if it was coming or going. I only had one Hyperactives, so I wasn't able to test the auto-pairing feature. The rubber tires seemed fine for indoors, especially on carpet. The foam tires didn't give a ton of different driving characteristics in my opinion, but they did help some on slicker surfaces like wood floors. I think this thing is built for indoors, and most of my testing was done there.
Durability:
After a few charge/discharge sessions, I did as we are taught here at BSRC, and proceeded to bash the heck out of this thing. I built ramps out of cardboard boxes, then proceeded to jump it off my pool table over and over and over. I hucked it off the top step at full speed and watched it tumble down 14 steps to my basement floor, 5 or 6 times. I drove it full speed into walls, clipped chair legs, drove it off my desk, and finally off a ramp at the top of the stairs to my basement, watching it again tumble all the way down. Nothing broke. Heck, because of the roll bar it almost always ended up on its wheels!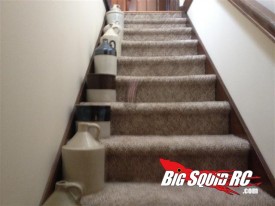 Overall:
This isn't a "hobby grade" vehicle. However, it is closer than most of the "toy grade" stuff out there, and far better than anything else "toy grade" I have ever driven. The Air Hogs Hyperactives Pro Aero GX is fast, 2.4GHz, and capable of standing up to almost any kind of punishment new or experienced RC driver can put it through. The roll over bar is an awesome little feature, that really makes this vehicle fun and forgiving to drive. Even without variable steering, I had a lot of fun messing around, building ramps, and driving it like Cubby paid for it 🙂 I think this would be great for a young beginner in RC. As with all of our stuff, if you see us at a bash, stop by and check out the vehicles we have with us. We may let you take a test drive, and at the very least get you some stickers!
Summary
Time to Bash – 8.0/10 – While the drive time isn't bad, if you run it down all the way, prepare to wait a little bit to recharge
Workability – NA/10 – This is a "toy grade" RC, so you aren't going to be working on it
Car Show Rating – 8.0/10 – I dig the look of the buggy, and after understanding the awesomeness of the roll bar, I don't mind it anymore either
Bash-A-Bility – 10/10 – I beat it up like I was mad at it a lot. Nothing broke. I bet I'd have to go outside, and find a roof to jump off and land on concrete to MAYBE break something
Fun Factor – 8.0/10 – It's fast, durable, and setup for multiple in the same household. A couple kids could have a blast with them.
Handling – 6.0/10 – The steering drives me crazy, and jumping is mostly a "point and shoot" affair.
Power – 10/10 – On "slow", it's FAST. On "fast" it is CRAZY!
Value – 8.0/10 – It's the best "toy grade" vehicle I have ever driven. Nothing broke, and $40 on Amazon is a good deal.
Big Squid Rating – 8.0/10 – This thing is an awesome indoor basher. Get a couple for your kids, and not only let them learn about RC, but watch them get creative building jumps, banked turns, and all kinds of other stuff to bash on!