Airtronics MT-4 – 2.4Ghz, 4-channel, telemetry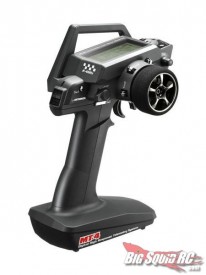 Airtronics has been spending some time cooking up something new.  The MT-4 is their new mid-range radio with all kinds of high-end features.  It starts with a new, light weight pistol grip design that features adjustable steering movement, trigger, and a selection of grips.  But more important is what's packed inside.  The onboard computer features a fast navigation system to get to the settings you need quickly and easily.  Many of the external switches are assignable to different channels and tasks.  Some of the programming options include 4WS steering mixing, anti-lock brakes, multiple types of EPA, and more.  The telemetry features work in real time and sensors for monitoring receiver battery voltage, temps, and RPMs are included.
The MT-4 should be hitting shelves some time in February at a cost of around $250.  Tell Airtronics to update their site so I can tell you to go there for more info.