AJS Machine Battery Wrench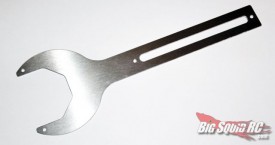 AJS Machine has a spiffy new accessory with a confusing name.  The AJS Machine Battery Wrench isn't a wrench at all, it's a strap, for the SC10.  The Battery Wrench Strap replaces the stock hinge and strap on the SC10, shaving nearly 10 grams from the weight of your chassis.  It's machined out of 1/16″ thick aluminum, so it's sure to be durable.  The Wrench Strap also allows for greater flexibility in battery positioning and a better selection of battery types, though it's optimized for 2S LiPos with top battery ports.  It will also work with the stock wingnut hold-downs or with the Factory Team blue aluminum thumb screws.
The SC10 Battery Wrench Strap is available now direct from AJS Machine  at a MSRP of $19.99.  For more info, check out the AJS Machine website.