AKA Enduro Short Course Tire Review
THE AKA Enduro Short Course Tire Review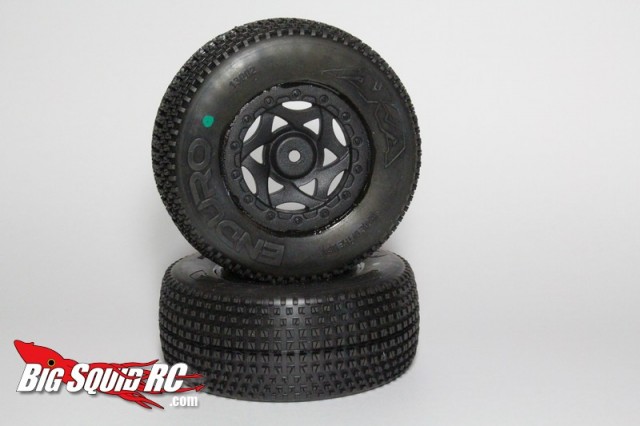 AKA Enduro tires have gained quite a reputation for being one of the premier race tires money can buy. Today we'll be taking a closer look at the AKA Enduro, specifically the short course truck version, to see how it stacks up in the bashing world. Do they last? Do they have incredible traction? Are they worth your cash? Read on…
From: AKA
Direct Link: Enduro SC Soft Compound
Review By: Cubby
Pics By: Cubby
Specs:
Part #: 13002SR
Fits- Most short course truck wheels, front and rear.
Street Price: $20 per pair
What's Needed To Complete Install: Grab some new wheels, some Bob Smith thin CA glue, and you are ready to go.
Build Quality: A bit of excess flash on the center of the outer carcass, but none found along the bead that would making gluing difficult.
Test Drivers: Cubby, Brian, Tim and Iron Mike
Test Venues: Leisure Hours outdoor track in Joliet Illinois, RC Outlaws in Collinsville Illinois, St Louis Dirtburners, a city park baseball field, and a cul-de-sac.
Set-up Notes: I mounted the AKA Enduro SC's on our MIP/STRC/RPM tuned Losi Ten SCTE 4wd short course truck. Speedo was a Castle Mamba Max SC, motor was a Castle 1410 four pole 3800, radio system was the incredibly uber Futaba 4PK Super-R, and we used a Dynamite SpeedPack 3S 5200 Lipo to completely over-power the beast.
Performance:
Street: Yes, the Enduro's are a relatively small pin "race" tire, and therefore you shouldn't even think about running them on the street. However, we ran them on pavement as a part of testing and they lived much longer than expected. Relatively speaking, there is a lot of meat on the Enduro's, thus a lot of rubber to burn off. If all you do is drive on pavement they will not give nearly the life of a dedicated street tire, but, if you absolutely must run them they'll give amazing traction and won't be burnt off in just one run like most "race" tires.
Grass: The Enduro's get better traction than a street tire on grass, but because of their small pins traction isn't that great in the green stuff. If driving in grass is your thing, you'd be better off with something like a Pro-Line Badlands SC.
Dirt: Running on a prepped dirt track surface is exactly where the AKA designers intended the Enduro's to be run, so that's where we spent 90% of our time. Soil type varied a bit, but we ran on multiple hard-packed outdoor tracks with a light fluff on top and larger loam on the outside if you missed the primary line. We ran on the tracks both when they were bone dry/dusty, and moist. We found the Enduro's to have exceptional forward bite with good side bite in both of these conditions. The Enduro's, with all their sharp edges, yielded rather incredible mechanical grip, resulting in exception corner speeds and great traction when powering out of corners.
We've logged thousands of laps on the tracks we use for testing and know when a tire is dialed, the AKA Enduro's were certainly that, arguably giving better overall traction than any other tire we've ever used. I must also note, we found the wear rate to be quite low on the Enduro's. Great traction plus low wear equals a kick ass tire.
---
Summary:
Time To Bash – 8/10 – Gluing up tires is not a 5 minute job, but as far as tires go the AKA's bolted up with no fuss.
Car Show Rating – 8/10 – Not a scale looking tread, nevertheless, our reviewers liked how they looked.
Bash-A-Bility – 8.5/10 – No rips, no tears and excellent wear characteristics.
Fun Factor – 9/10 – All that mechanical grip equals more speed, and more speed is always more fun.
Value – 9/10 – The AKA's come with perhaps the best insert money can buy and the tread pattern has a long life. All that at a quite reasonable price represents a good value to us.
BigSquid Rating – 8.5/10 – Tentacles. The AKA Enduro SC's are not the best tire for street, grass, or loamy dirt driving, but if you spend the majority of your time bashing on a prepped outdoor track the Enduro's are a fantastic tire.