AKA EVO and IMPACT Wheels and Tires for 1:8 Buggy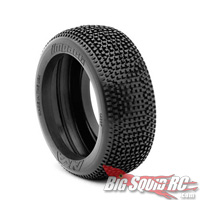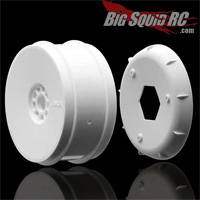 New from the dream team over at AKA are two 1/8 scale buggy products! First up is the IMPACT Buggy Tire. The design has a dense square lug pattern with offset lug rows in the center for serious traction forward and two outer rows for high bite turning. The IMPACT is based on AKA's ENDURO and WISHBONE tires and were built and announced for the IFMAR World Championships coming up next month.
The second product is the new EVO buggy wheel. Now that people seem to be going to stiffer inserts, the wheels were actually too soft to hold up under the pressure from 1:8 scale buggies. The EVO design helps fix this issue with a concave face instead of convex, and then the new insert that not only helps block dirt from getting into the grooves and throwing tires off balance, but also stiffens the complete wheel by supporting it from the inside.
Initial testing seems to be positive on these products, and they should be available to the general public sometime in November.
You can also check out a video interview with Mark Pavidis talking about the products on LiveRC's Youtube video.
Check out the official AKA website for info on these and other products.