AMR introduces Gears 10 – 1/12 scale nitro buggy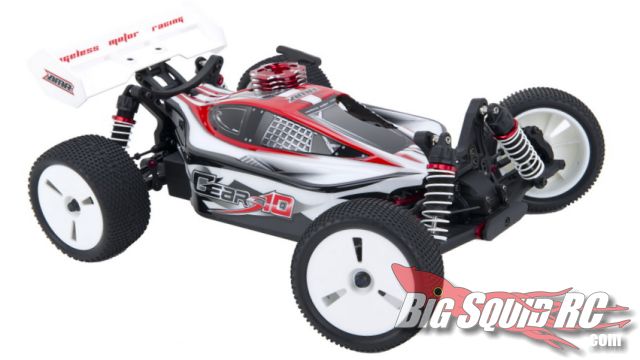 Taiwanese outfit AMR (who?) has a  brand new RTR 1/12 scale nitro buggy ready for your consumption. Called the Gears 10, this new buggy is 4wd and looks the part of it's much larger 1/8 scale counterparts.  The drive train is shaft driven, with durable gear differentials at either end, and also includes a slipper clutch, housed beneath a nifty looking shroud to help keep debris out.  The suspension is made for racing with long stroke shocks, adjustable turnbuckle tie-rods, and anti-roll bars front and rear.
The Gears 10's engine package is an adorable 1.6cc (~ .10) pull start with an aluminum muffler and manifold.  It's also available with two radios, a bare-bones 27 MHz AM radio or the AMR Navigator 2.4 GHz 2-channel radio.
Unfortunately there's no word on whether or not the Gear 10 will be available stateside.  Robitronic is distributing it in Europe.  Check out the AMR web site for more info.
AMR Gears 10 gallery