Animus Hop-Up Parts Review
Animus Hop-Up Parts Review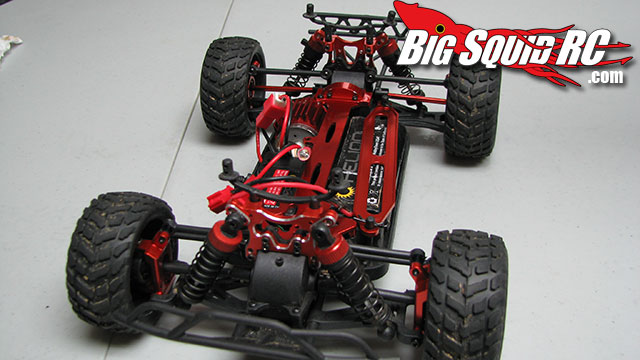 For a lot of bashers, it's all about the hop ups. How much bling can you add to your ride? Some do it for looks, some do it for durability, but we all do it. Every time I'm online, or at a hobby shop, I can't help but look to see what I can add to my ride. The Helion RC guys recognized this need for bling, and have released a full line of hop-up parts for the Animus. How did the install go? Are we blingtastic? Keep reading to find out..
From: Helion RC
Direct Link: Animus Hop Up Parts
Where to Buy: The Helion RC brand is a Hobby Town Exclusive
Parts- –
Steel Diff Outdrive Cups
Aluminum Drive Shafts
Aluminum battery Strap
Aluminum Chassis To Plate
Aluminum Rear Hub Carriers
Aluminum Front and Rear Shock Tower
Aluminum Motor Mount
Aluminum Wheel Hexes
Aluminum Gear Cover
Aluminum Heat Sink,
Aluminum Rear Bumper
Total Cost: About $200. Nobody ever said hopups were cheap.
Try not to let the sticker shock get to you. Most people don't go and buy EVERY part there is available at once. You may buy a hop-up part if you broke the original, or maybe just pick up one every time your at the shop. As long as you are wrenching on your vehicle, you might as well ad the hop up since it's taken apart already.
While we upgraded our Animus SC, you could also use them on the Animus TR.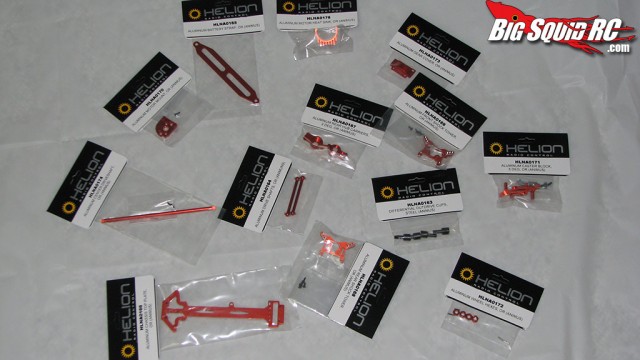 Build Quality: The overall quality of the parts is excellent. None of the parts had any issues out of the bags.
The Install: The entire install took about 2 hours of all the parts, but I was watching a little TV at the same time, so if you were un-distracted you could probably do it a little quicker. The install went very smooth for the most part.
There are a LOT of little screws to remove and put back while working on the vehicle. To make it easier to keep track of what went where, I would place the screws on the table next to me in a similar shape/area of where they went on the vehicle. This way, when I had to re-install them, I just grabbed the screw that was in the area of where it belonged. I also didn't do more than 1 or 2 hop up parts at a time. I would remove the one old part, install the new one, and get the Animus back together to make sure it was installed properly, then move on to the next part. If you just disassemble the whole vehicle, you could cause yourself a good headache trying to put it back together. Take your time, do it right.
We ran into do small issues during the install. The first, was because we have a older version of the receiver box in our Animus, our receiver antenna does not work with the new antenna holder on the top plate. Not a huge deal, the antenna is small, so we just secured it out of the way.
The second issue, was installing the Aluminum gear cover. After we installed it, the cover was too tight and rubbing on the gear itself. Because several of the screws for the gear cover also hold some other parts in place, it was easy for them to shift. It was a simple matter of taking it off, making sure we had everything lined up, and carefully replacing the gear cover, while not over tightening it. I think we did the re-seat twice, and then we were good to go.
After installing each part, you want to test the vehicle just by rolling it along, and making sure everything is smooth. If you have some binding that you didn't have before, remove the part and try again. You do not want to just set it down and pull the trigger because you could ruin some parts.
Test Venues: Office, hallways, skate park, bike paths, dirt jumps
Durability: The new parts are going to be WAY more durable than the old plastic ones. I'm pretty sure that those drive shafts are not going to be a weak link, and can take all sorts of power and abuse. Same with all the other parts, no need to worry about busting a out drive or hub carrier again. The motor mount and heat sync also keep the motor running much cooler with all sorts of ways to dissipate the heat.
Bling and Looks: Wow. The vehicle just made the head tuner list. Anywhere you go, as soon as you take the body off, the crowd will gather.
Misc Notes: Our Animus is now more durable than ever, and the car show rating has gone way up. Sometimes hop-ups only get you the looks, but these all made a difference in the durability of the vehicle as well. The Animus feels much more solid.
The install was pretty smooth, and the quality is all good.
We really would of liked to have seen a hop-up for the servo saver, as that is still a weak link that could use some work.
We will be reviewing the shocks in a separate review, so watch for that soon!
---
As with all of our stuff, if you see us at a bash, stop by and check out the vehicles we have with us. We may let you take a test drive, and at the very least get you some stickers!
SUMMARY
Time To Bash – 8/10 -Installing this many parts is never quick, but as a base, it went pretty smooth.
Workability – 8.0/10 – For the most part, the parts installed easily.
Car Show Rating – 10/10 – The bling factor was just doubled on this vehicle.
Bash-A-Bility – 10/10 – You won't be breaking any of these parts anytime soon.
Fun Factor – 8.0/10 – You can be a little more reckless with your Animus now because you have increased the durability.
Value- 7.0/10 – Hop up parts are never cheap. Buying them all at once would break the bank, but if you buy one here and there, you'll be ok.
Big Squid Rating – 8.5/10 – Tentacles..Everyone loves hop-ups and bling! Especially bashers. If you are looking to add some durability start with the drive shafts or the top plate.