Another R/C on TV sighting!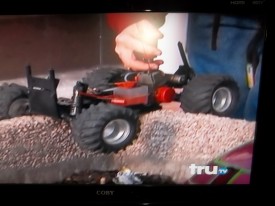 A few days ago I was watching Tru TV's Hardcore Pawn and out of no where a guy walks in with an old Kyosho nitro. I'm not to sure exactly what model but it said Kyosho on the skid plate. Les, the owner of the shop asked the guy if it ran and if they could go run it outside, the guy said that it ran great and they went outside. After only three or four pulls Les was already getting impatient. He was pacing and wistling and then he told the guy that if he got it started to come in and get him. Well right before the show was over the guy came walking in with the truck and said that he was going to go home and get it all tuned up and he would bring it back. Well if he ever does bring it back I'll keep you guys updated.
Check out a few other sightings in our RC On TV category if you need more.