Aquacraft GP-1 Ultra – Brushless Mini Hydroplane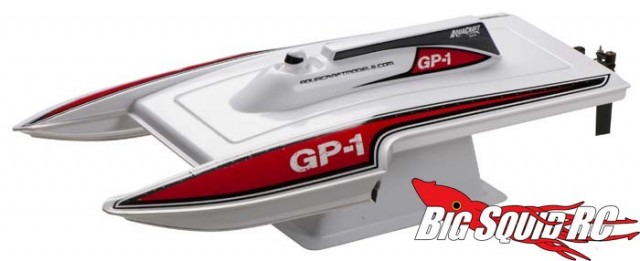 The latest boat from Aquacraft is a Mini Hydroplane called the GP-1 Ultra. What makes the GP-1 Ultra special is that it comes with brushless power and is Lipo ready right out of the box.
A 6-pole 2200kv inrunner and 30 amp watercooled speed controller provides the power on up to 3S lipo batteries, while a break-away rudder system prevents breakage when you hit those hidden treasures at your local lake. For size, the GP-1 Ultra has a hull length of 16.4″ and it weighs in at just 14.4 oz.
There are two versions of the GP-1 Ultra, the RTR (part #AQUB1820, street $179), and a receiver ready Rx-R (part #AQUB1821, street $139). The expected release date on both boats is later this month. For more information on everything Aquacraft check out their Official Website.
Looking for more information on rc boats? If so, you'll want to click THIS LINK.