Aquacraft updates Rio 51 to new Rio 51Z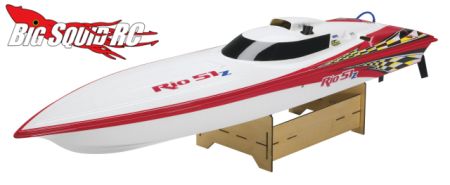 Attention boaters!  The venerable Aquacraft Rio 51 has been pushed aside in favor of a new flavor.  Today Aquacraft has announced the Rio 51Z, which is almost the same thing, only better.  Now it comes stock with a 26 cc Zenoah® G260PUM marine engine for all the power you might want.  To keep that power under control Aquacraft has also seen fit to include the Tactic TTX240 2.4GHz radio system for all the 2.4 Gigahertzy goodness.  And then there's all that delicious GrimRacer hardware that Aquacraft is known for. It'll be available in towards the end of April for the low MSRP of $1199 with a street price likely much lower.
Check out Aquacraft's site for all this info and even more!