Ares Chronos CX 100 RTF Helicopter with Camera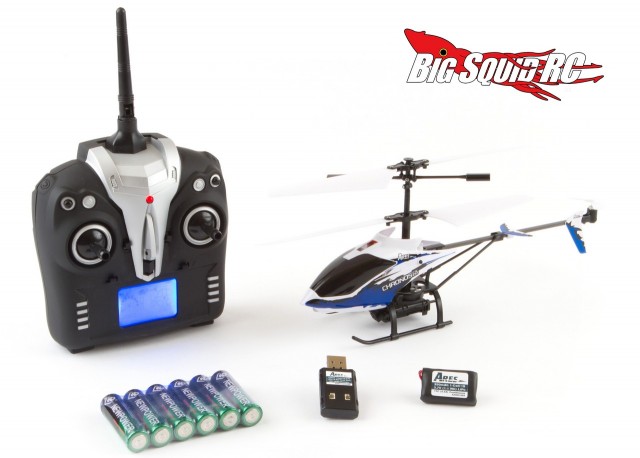 Our friends over at Ares have just announced their new Chronos CX 100 RTF helicopter. The counter-rotating blades, fully proportional controls, and computerized gyro make it easy to fly, even for noobs, while its ultra-micro size allows it to be flown in small areas like indoors.
The CX 100 comes with a digital on-board camera that can be used to shoot video or stills. A 2GB MicroSD card comes standard, large enough to hold up to 90 minutes of video. Some of its other features and specifications include-
* 2.4 GHz radio system
* 1S 250mAh Lipo w/ charger
* 2 coreless main motors
* 4-in-1 receiver/esc/mixer/gyro
* Two color choices- red or blue
* Length: 10″
* Height: 4.5″
* Main Rotor Diameter: 8.9″
* Weight with Battery: 1.9 oz
The CX 100 has a part number of #AZSH1350, an affordable street price of $69, and should start hitting your local Hobbytown USA early next month. Hit up This Link for more information.
Click Here for more Ares news on BigSquidRC.