Armattan Quads V-Tail Review
Armattan Quads V-Tail Review (355mm)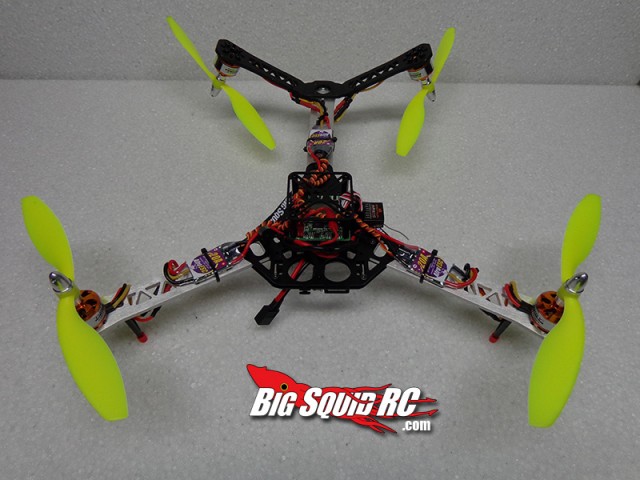 3DBill here, V-tail quads are a bit more exotic than the average quad. They have four motors like a traditional quad but the tail motors are tilted to provide thrust to turn so it has tail control like a tricopter. Lets check out this back yard beast. Hit the "Read More" to continue onto our thoughts..
From: Armattan Quads
Direct Link: Armattan 355mm V-Tail
Review By: 3DBill
Pictures By: 3DBill
Video: coming soon.
Specs:
From the Armattan Website
Aluminum laser cut arms, 4mm, 6061 aircraft grade aluminum
1052, 1.6mm aluminum, laser cut center plates with integrated GoPro mount
6061, 4mm aircraft grade aluminum landing skids
Heat-bent 6061, 4mm aircraft grade aluminum dual tail arms
Universal flight controller mount. Compatible with Multiwii, KK2, Open Pilot, Naze and other flight controllers.
1052, 1.6mm alumi top protective plate
RTF or Kit: Kit (DIY and rx ready versions avaialble as well)
Airframe Weight: 9.1oz
AUW RTF: 28.6oz with gear as tested
Capable of carrying a Camera: Yes GoPro and Mobius cams tested
Electric or Gas: Electric
Parts we used:
Motor: 2822/1450kv
Speed Controller: 20 amp preflashed esc's
Flight Controller: KK 2.0(1.2 Firmware)
Props: 8×4.5sf and 8×4.5 gemfan tested
Low Voltage Cut-off: (You never want LVC on a Multi)
Radio: Spektrum DX 7
Battery: 3s 2200mah 35c lipo
Runtime: 6-10 min + with 3s 2200 lipo,Hovered for over 10 minutes without cameras.
Street Price: $125.00 on up depending on color options.
Primary Competition: QuadcoptersUS, SimpleCopter Tilt V-Tail, LynxMotion 400 size hunter v-tail, TornadoFrames 330 size v-tail.
What's Needed To Complete: A 4-6 channel computer radio,20 amp esc's,flight controller board,2208-2822 size outrunners work well, power harness for 4 esc's or PCB board or solder up your own power harness,props 8×4.5,3s lipo and charger,velcro,velcro battery strap and a few tools and zip ties,3mm hex driver,small phillips screw driver, small 3mm wrench. Most rc car bashers already have the tools needed in there pit box.
Build Quality: The kit is cnc laser cut aluminum. Everything needed for the frame itself was included but there is no build manual (Armattan provides build and set up videos if requested). There was a small handwritten set of instructions for part of the assembly but most should be able to assemble the frame from the pictures shown on the Armattan Quads website. Fit and finish was nice, there is a little wiggle room where frame parts are secured to arms etc. I'd suggest thread lock on all metal to metal screws. The rest of the assembly uses lock nuts and plastic screws and nuts. You can order these quads as a DIY kit with all componets that you assemble yourself or fully built and ready for your rx, radio, lipo as well if you'd like to get flying without assembly or set up. I had the frame assembled and rtf in about an evening.
Test Drivers: 3DBill. (Brian, Kevin and Tim all hovered around just to get a feel for it)
Test Venues: Backyards, Parking lots, inside HobbyTown, Living Room. (Not suggested!)
Set-up Notes: Set up is everything, V-tails require a bit more flight controller set up than standard quads. Depending on the board used this can take a bit of tuning and mixing for best flight performance. Make sure whatever flight control board you choose has v-tail configuration support. Because the angle in degrees of the rear motors will vary among different v-tail frames (30,40,45 etc) you will need some additional mixing in most cases for them to fly properly when turning and overall stability.
Flying: V-tail quads are rather exotic, you have four motors like a standard quadcopter but because the rear motors are angled you also have thrust aiding in yaw control instead of torque alone like a standard quad. Overall power is similar to a regular quad but rudder(yaw) control is very responsive like a tricopter and everyone that flew it easily noticed the difference between this quad and standard quads. This v-tail frame flys very well and at 355mm size its great for acro but can be flown on lower rates for gentle circuits and slow relaxed flying as well. It really was a lot of fun to fly
Acrobatics: Awesome for acro on high rates with the flight controller settings turned up. This v-tail is a back yard beast and can be as quick and nimble as you want it to be.
Flying With A Camera: Carried the GoPro and Mobius cams with ease.
Power: Plenty of power for sport and acro flying. With the power set up we tested, it can easily carry a GoPro while your at it. 1400-1800kv motors have plenty of punch on a 3s set ups. Note Armattan suggests 1800kv motors and they will have even more power than the outrunners tested but the 2822 1450kv outrunners had plenty of power for me.
Radio: We used a Spektrum DX-7 (any 4-6 channel computer radio will work)
Broken Parts: We didn't break anything other than some props. Because the frame is aluminum most of the time a crash did no damage. On harder impacts you can bend the arms but they can be bent back with some force and you can keep on flying. If you do manage to bend or break something on the frame beyond repair all the parts are available at the Armattan Quads website.
Beginner Pilot Friendly: As with anyone new to multirotors, it's a good idea to start with a small rtf quad or quite a bit of simulator time before flying larger brushless multirotors.
Misc Notes: Many outrunners in the sizes suggested for this frame use collet style prop adapters, many also are typically for use with planes. Usually the motor shafts are about 7mm longer than needed. I cut them down so the collet fits flush against the motor. This will make them a bit more durable in a crash and help keep them from bending as easily. Scuffing the shafts with sand paper and wipe down with rubbing alcohol is suggested to clean any factory machining residue from them and keep them on tight in flight.
Best Mod Under $5: Colorful props for good orientation as always with any multirotor.
Best Mod Over $5: Flashed esc's enhance flight performance quite a bit on any multirotor.
---
Summary:
A = Outstanding/Best in Class, B = Above Average, C = Average, D = Below Average, F = Horrific
Time To Bash: B The frame bolts together quickly, making a power harness or soldering wires to a PCB is the slowest part of assembly.
Workability: B Everything is easily accessible, or easy to replace.
Car Show Rating: B Looks exoctic,anodized parts add to the looks, and…Its a V-tail
Bash-A-Bility: B+ I bent the arms back a little after crashing and kept on flying. The landing skids bent too, but they can be bent back as well. This one can really take a beating.
Fun Factor: A Its a back yard beast for Acro flying and can carry a camera no problem.
Value: B It's bit pricey for a frame but you save in the long run since its very durable.
Parts Availability: B All parts are available online. You also have color options if you want to mix things up.
BigSquid Rating: B Cool looks, Flys well, Very durable. Its a bit pricey, but its not to far off the mark when it comes to other cnc aluminum frames out there.
Video coming soon!