Around the Office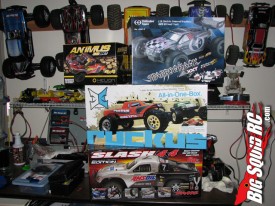 So it seems like everyone now has their own weekly segment, so it seemed only natural that I hop on board with one. I need something to do when I'm not answering emails defending Cubby about something he recently said right?
The idea of this segment is to share what is being discussed around here recently. It could be a new vehicle that we are excited about, or maybe one that didn't perform like we thought it would. Maybe a rumor that we can't stop talking about?
Today's article is about vehicle purchasing. Hobby shop owners and employee's may want to listen up. We were recently discussing why is it that when I go buy a real full size car, do I get to test drive them all? Used or new, I can give a copy of my drivers license, grab the keys and go! Sometimes there's a salesperson with you, but many times there isn't. There have been many cars that I thought I was going to like, but once I got behind the wheel, I found out real quick that car isn't what I was looking for, and I move on. So why can't I walk into a hobby shop, point to the new Traxxas, or Thunder Tiger and say, 'I want to try that one' before I plop down my hard earned money? I believe it was Cubby who said 'real cars cost a lot more, if I'm dropping $25k on a something, I want to test it out!' Well to a 12 year old kid, that $500 monster truck might as well be $25k! You know how many trips from the tooth fairy and birthdays it takes to get $500? Granted, most people buying RC vehicles are not 12 year old kids (can someone tell me why not?! That's for a different conversation write up).
Now before I get a few emails, I can sense there are a few people who already opened up their email and have started typing (remember send those to Cubby!) I do know of a hobby shop that lets you take a spin of some of their vehicles. Our very own Hobby Town, in Orland Park Il. Now you can't test ANY vehicle you want, but Steve (the owner) always has one or two vehicles behind the counter that he is more then willing to let you take for a spin in the parking lot. This isn't really to get a feel for a specific car, it's more for the complete novice/new people to see what it's like to drive a RC vehicle. I don't know if ALL Hobby Towns do this, or if this is specific to our store here (I have a feeling it probably is all Steve's doing) but it's cool that he does it. That being said, it's still not the ideal situation for people already into the RC hobby, but it's great for the newbies. Why can't I walk in and try that new Losi SCB? Maybe I can't decided if I want a Thunder Tiger GT3 or a HPI Blitz? I bet you after driving both for 5 minutes on a track or a parking lot you will know exactly what one is right for you.
Now I know one of your complaints. That would cost the shop a LOT of money to have all these open vehicles. But would it really? I know people would expect a discount on buying the 'opened' one. Would they buy the opened one if it was $10 cheaper? Sure it's been driven, but you know 100% it's going to work when you get it home. Maybe the manufacturers should send a 'test' vehicle out? Did your store order 10 New Kyle Busch trucks? Well you get 1 test truck with that order! I'm willing to bet they sell a few more if people got to drive one first. Now I know a few shops that have a bunch of vehicles opened out on the counter, but that's not the same. If you were going to buy a real car, and they lined up 5 cars and said, here you go, you can look at any of them, open the hood, kick the tires, but you can't drive it, that is not going to help your decision.
I better wrap this up before Cubby finds me standing on his soap box! I just wanted to introduce a new segment, and bring up something that we have been discussing around here the last few days. Comments? Drop me a line. I'd love to hear some other hobby shop opinions, or anyone looking for a new vehicle. Would this help? Or do you just buy whatever Big Squid reviews as good?