Around the Office – 6-29-2011- Basher Approved!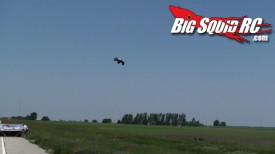 So it looks like it's time for another update on what's been going down around the office lately. First up, is some big news. We have decided to go ahead and give the Thunder Tiger MT4-3G our BASHER APPROVED award! I honestly don't think we have tested a tougher truck. On all of our latest outings, everyone has just been all about torturing this truck. At the HuckFest a few weeks ago we jumped this truck over 125 feet about 5 times in a row. We were running most the day on 6S at close to 60mph, and we drove it away. It's the only vehicle that was able to make more than two jumps in a row and survive! Any other truck this size would of shredded gears, broken a-arms or worse, but the Thunder Tiger MT4 went home in one piece. It's been bashed at skate parks, streets, yards and tracks, and has been our goto truck for the past few weeks, so everyone here agreed we needed to give it the award! Congrats to Thunder Tiger on the awesome truck.. keep up the good work!
Other things around the office, we are testing the Thunder Tiger Sparrowhawk XXT. Will it be able to follow in the footsteps? Only time will tell.
We are also gearing up for another shootout. This one is going to be a little different, and already we have a lot of companies supporting it, so it's looking like there will be some great match-ups! More about the shootout in a couple of weeks.
Besides all that, we have been getting ready for the RCX event coming up on August 6th as well as iHobby in October! We are going big at both shows, so if you are in the area, make sure to come on out!
I think that's enough watercooler news for this week. Thanks for reading!