Around the Office
While Jeff was off jet setting and rubbing elbows with the people and fans of RCX, we were busy back home doing some bashing, testing and evaluating. We have a ton of great stuff we are working on with reviews, interviews and general articles.
Just wanted to mention a couple of the things sitting on the desk we are about to start putting to the test. The Duratrax pit-mats are looking pretty sweet. The big one is a good size, and I really dig the indentations for putting screws and stuff so they don't roll all over the place. The small mat is also cool, and great for that 'bashing on the go' style. I can leave it in the back of my truck when I'm working on a vehicle out at a location somewhere, and have a place to keep things from getting away.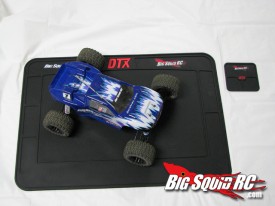 We also got our hands on some of the new TrakPower Lipo's! These things are looking pretty good, and we are really looking forward to putting them to the test!
There are a couple of other things floating around the office, but you'll be reading about those VERY soon.