ARRMA Fury 1/10 Scale 2WD Short Course Truck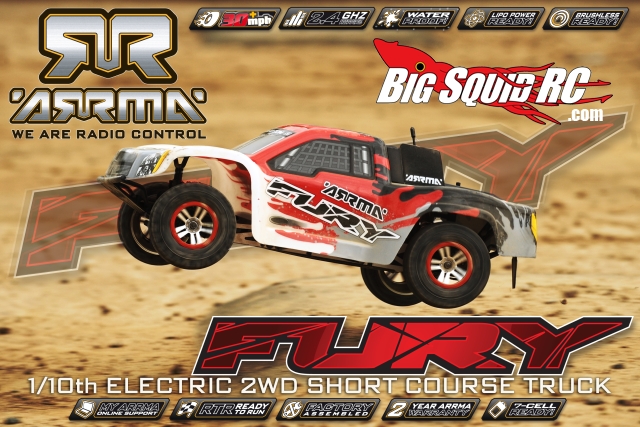 ARRMA has already given us a sneak peak at the Raider, a 1/10 Scale 2WD Baja Buggy, and now we get to look under the body of their Fury 1/10 Scale 2WD Short Course Truck! The same rules apply here as they did to the Raider. TVP chassis, waterproof electronics, hex hardware, steel driveline and all metal transmission, oil-filled diff, oil filled shocks, 2.4GHz radio; all wrapped up in a 'Salvador' SCT shell. This truck as well totes a 15T motor, and promises 30+ MPH out of the box. It also comes with the same funky radio, which can be bound to six different ARRMA vehicles.
I've gotta say that these first two vehicles have really perked my interest. They look great in my opinion, and the TVP design is known for being pretty tough. It's all coming down to price points, ship dates, and actual perfomance, but ARRMA has me hooked so far!
Make sure you check out their new website by clicking here!
Check out the video after the jump!
http://www.youtube.com/watch?v=NyOTH54EXf4&feature=player_embedded